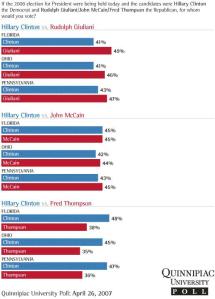 A Quinnipiac poll out today has Rudy Giuliani leading Hillary Clinton in head-to-head match-ups in Flordia, Ohio and Pennsylvania.
Stubbornly theoretical candidate Al Gore does notably well, just in time to add an extra wrinkle to the field-standings analysis following the the first debate among the Democratic candidates tonight in South Carolina.
More on the poll here.