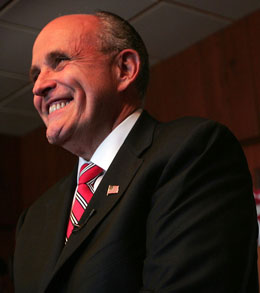 It has become accepted wisdom heading into the 2008 Presidential campaign that the closer you get to New York, the less people tend to like Rudy Giuliani.
As Mr. Giuliani demonstrated at a fancy April 23 fund-raiser for the Manhattan Republican Party at Cipriani 42nd Street, he is aware of the joke.
"I can't believe I'm in New York," he said at the podium, as the applause of the crowd washed over him.
The affection was mutual, and intense.
"The New York County Republican Party is very, very close to my heart, because it's this party that gave me the original support to run for Mayor of New York City," he said. "Remember?"
"We love you!" a man yelled out from the audience.
And so on.
Outside the event, which was also attended by Mayor Michael Bloomberg, it had been a different story. Family members of Sept. 11 victims and first responders had gathered to protest Mr. Giuliani, and to talk about the ways in which they felt the former Mayor could have better prepared the city's rescue workers for the attacks, and provided care for them afterwards.
But that barely affected the mood inside.
"I walked quickly in and didn't really see them," former state G.O.P. chairman Sandy Treadwell said later in the evening. "Obviously, he has a wonderful record from September 11th. His leadership was inspiring to America, and well beyond America."
Once Mr. Giuliani got beyond the pleasantries and into the actual body of his speech, it turned out to be a local variation on his standard stump material.
"You're all very, very close friends," he said. "We're going to be able to accomplish this for the Republican Party and for the rest of America because, of all the people running, I have a record of having done the job here in New York.
"And, as I say to Republicans all across the country, if you need somebody who can balance budgets; reduce spending; deal with security; take a situation that is one that seems to be unmanageable and ungovernable and turn into something that is positive, and something that is safe and secure; balance budgets and lower spending, and a lot more fiscal discipline—you know, Washington really needs that, but I think it might have been tougher to do all that in New York," he continued. "And if you can do it in New York, you can do it in Washington."
He got down from the stage, shook a few hands, and finally left Cipriani the way he entered: through the back door.
After Mr. Giuliani left, former Manhattan G.O.P. chairman James Ortenzio, a medieval-cartography expert who had organized the night's dinner, gave a speech in which he talked of the ancient Greek hero Themistocles, who saved Athens only to be banned from the city 10 years later.
"It was said that he was ostracized from Greece because he reminded people too often of what he had done," Mr. Ortenzio told the crowd.
Later, Mr. Ortenzio said he'd invoked the story as a parallel for his departure as chairman, not as any sort of comment on Mr. Giuliani.
When asked if there were, in fact, any similarities between Themistocles and Mr. Giuliani, Mr. Ortenzio said: "There are lessons to be learned."