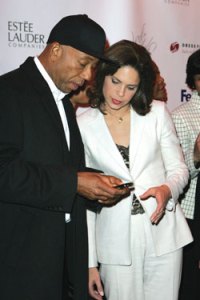 Though freshly removed from her co-anchor slot on CNN's American Morning, Soledad O'Brien was in apparent high spirits at the 10th-anniversary Dress for Success Gala at the Times Square Marriott Marquis on Thursday, April 12. Indeed, she was the last celebrity to leave the red carpet.
"Great! Good for you! How old are you?" Ms. O'Brien asked after a young reporter for Fox News introduced herself. Twenty-two, said the trembling Eve Harrington. "Awesome—that's perfect!" beamed Ms. O'Brien, 40, clad in a fitted cream pantsuit over a leopard-print tank with matching leopard-print heels (rrrrow!). "If you're not a little bit scared," she further encouraged, "you're not doing it right."
The Transom asked for Ms. O'Brien's take on the recent scandal over at CBS, which fired producer Melissa McNamara after she plagiarized a Wall Street Journal column for one of Katie Couric's first-person commentaries. "Well, you know, she's a mentor of mine, so I talk to her all the time," Ms. O'Brien said of Ms. Couric. "When I was at NBC and I didn't have an agent, she called up her agent, and the next thing I knew, I was represented by CAA. I mean, people don't do that. So I've always been incredibly grateful to her.
"I think she's a great role model for women, because she's made a very brave choice," Ms. O'Brien continued. "She's gone out and tackled something, and nobody before her—no woman—has done the evening news, and I think she has gotten a lot of barbs because of that. Some of the attacks are very personal, and because she is a woman. I'm sorry to have to admit that, but it's true. I think she's handled it with grace. This too shall pass, because one thing Katie Couric is, is a terrific journalist. Everybody knows that. And Brian Williams too!"
Inside, Sopranos actress Lorraine Bracco—wearing a brown Charles Nolan dress under a cream wool knee-length jacket by Oscar de la Renta—had placed a bit of $2,700 on some other evening wear, including a Rachel Roy dress and four-inch strappy silver heels by Stuart Weitzman. (The event would go on to raise $1 million to outfit disadvantaged women confidently for job interviews and professional life.) Later, entrepreneur Russell Simmons wandered by, provoking an eager round of flash photography from the charity's beneficiaries. "Who is he?" asked one, a woman in a boxy red suit. "Russell Simmons—he's a millionaire," replied her companion. "That's all you need to know. A really rich, black millionaire."