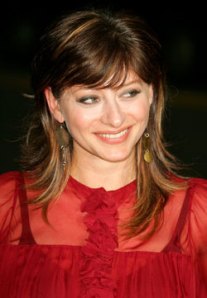 Despite her salacious scandal earlier this year, CNBC's top anchor, Maria (the "Money Honey") Bartiromo, and husband Jonathan Steinberg are settling into domestic bliss: They've closed on a five-level townhouse on East 62nd Street, paying $6.5 million.
The five-bedroom house, east of Third Avenue, has a second-floor balcony overlooking the 39-foot-long backyard garden, plus a two-camera security system with a flat-screen monitor.
The couple signed a contract in late February, less than one month after Ms. Bartiromo's friend Todd Thompson, the head of Citigroup's wealth-management branch, was publicly fired for "inappropriately showering corporate resources" on Ms. Bartiromo, according to a published report. For example, Mr. Thompson reportedly booted executives off a cross-continental Citigroup flight to be alone with the impeccably brunette anchoress.
But CNBC—the cable network where Ms. Bartiromo hosts the most popular financial-news show in the nation—rushed to the support of its "Money Honey" (a nickname that Ms. Bartiromo recently registered as a trademark). So did her husband Jonathan, the son of outlandish financier Saul Steinberg.
According to public records, which list the couple's old address at a nearby apartment, their new townhouse recently belonged to Michael and Melissa Slocum, who bought it for a relatively steep $6.8 million in August 2004.
Photographs from the recent Stribling listing show the townhouse as a customarily fancy Upper East Side place with big ruffled curtains and bigger chandeliers. Better yet, the place has four working wood-burning fireplaces, a 32-foot-long kitchen, and a wet bar between the second floor's dining and drawing rooms.
Will the TV go in the 342-square-foot family room? "I watch her at the Big Board every single day/While she's reporting you best stay out of her way," the late Joey Ramone sang about Ms. Bartiromo. "I watch her every day/ I watch her every night/ She's really outta sight."
Gap Heir Buys in the Pierre for $2.9 M.
Fortunes built on khakis and turtlenecks can buy grand rooms in the Pierre Hotel—rooms that have absurdly abundant space for khakis and turtlenecks. Billionaire William Fisher, whose parents founded the Gap, has paid $2.9 million for a Pierre co-op with two bedrooms, twice-daily maid service and a colossal dressing room.
Naturally, the Pierre apartment has deluxe Fifth Avenue views.
"The tops of the trees are precisely at eye level," said listing broker Max Dobens, a vice president of the Jacky Teplitzky Group at Prudential Douglas Elliman, "so it's like floating in the ocean, looking at the tops of the waves, with your head bobbing in the water."
More importantly, the hotel room comes with a stocked mini-bar. And yet: "If you own in the Pierre," Mr. Dobens pointed out, "it's not particularly classy to be hitting the mini-bars."
There are classier touches, like the reception hall, which comes before the 27-foot-long living room overlooking Central Park.
Both bedrooms have their own walk-in closets, yet the master suite's dressing area stands out. "Normally, you would have to get dressed in the bedroom itself," the broker explained, "but here it's the classic old-world elegance: You get out of the shower, you get dressed, and you enter the bedroom once you're dressed."
One of the dressing room's four closets, for example, stretches 18 square feet.
Mr. Fisher and his wife Sakurako bought the five-room apartment from the estate of Robert M. Shapiro. On the deed, the Fishers' address is listed on Jackson Street in San Francisco, a few feet away from the second-oldest golf club in California.
Sadly, they'll be paying $5,469 every month to maintain their Pierre apartment. "Yes, that's high," Mr. Dobens said. "This property is for people who are at a financial level so that maintenance is a non-issue. If you ask how much the maintenance is, you don't belong at the Pierre." Ouch.
Maintenance costs are lower elsewhere, but then elsewhere "you don't have the people in the elevator pushing the buttons."
Time Warner Chief Cedes Tribeca Summit Dominance for $2.2 M.
Manhattan tycoons should have bad toupees and bad tempers and badly decorated Fifth Avenue triplexes. But Dick Parsons, the mild chairman and C.E.O. of Time Warner Inc., has sold off one of his comparatively modest apartments atop 166 Duane Street.
According to city records, which listed the property in wife Laura's name, the three-bedroom loft was sold for $2,218,063 last month to the Pittsburgh architect Leonard Perfido and his wife Ruth. That's a baffling fall from the $2.9 million that the Parsons paid for the Tribeca loft (labeled Penthouse A) in July 2003.
Mr. Parsons and his wife won't be leaving 166 Duane Street. "I don't want to get into his personal life or investments, but he's definitely staying in the building," Time Warner spokesman Ed Adler told The Observer. "He's a resident of Tribeca and loves it."
There's a lot to love: The Time Warner chief still has his five-bedroom Penthouse B, which he bought in 1999, when 166 Duane was converted into condos.
That sponsor unit had been listed for $3.7 million.
Will Mr. Parsons miss his newly relinquished apartment? According to a Corcoran Group listing, the smaller 2,520-square-foot Penthouse A had three bedrooms, plus an 810-square-foot private garden (landscaped by two name-brand designers: parks mastermind Patricia McCobb and modernist decorator Michael Formica).
According to floor plans, the building's 125-foot-long roof is split into space for each penthouse, plus a "common roof terrace"—which means that Mr. Parsons has given up precious dominance of the building's summit.
How un-mogul-like.
Consider this: Carl Icahn, the corporate raider who has called for Mr. Parsons' ouster, owns a 14,000-square-foot spread atop the Cesar Pelli–designed Museum Tower, according to the database PropertyShark.com.
Mr. Parsons' Tribeca penthouse is now merely 4,955 square feet—about one-third the size of Mr. Icahn's.
Southampton Estate Battles for Buyer; It's Only $48 M., Give or Take
Things don't always go perfectly for gated Southampton estates, even 10.44-acre sprawls where the lakeside Georgian master house has 13 bedrooms and the guest cottage is shaded by a tulip tree.
Goldman Sachs C.E.O. Lloyd Blankfein was twice reported to be in contract for Old Trees Estate on Lake Agawam. (He has enough money for the estate, previously listed at $48 million: He was compensated $54.8 million for his seven months helming Goldman last year.)
"That deal never came to fruition," said Sotheby's International Realty broker Harald Grant, an overlord of Hamptons realty.
So the listing has switched to Mr. Grant from Prudential Douglas Elliman. And the price tag has somehow gone up: "The asking price is a little more than $48 million," he said.
The reported agreement between Mr. Blankfein and the seller, financier Donald Burns, was around $41 million.
But Douglas Elliman's Jay Flagg, one of the old listing brokers, didn't admit defeat. He said this week that customers who had been shown the house while Elliman had the listing were still "continuing negotiations."
And yet his colleague Raymond Smith was less upbeat. "We had the exclusive. I'm not saying it's done done, but it's pretty much that way."
Why the broker switch? "It happens all the time," Mr. Smith said. "If something doesn't sell, they change horses—that's the way it works. People think they're going to get a better situation, but it's the same-old, same-old. The new guy's going to do the same stuff I did, just as I would."
The new guy, Mr. Grant, will likely show off the Atlantic Ocean views, the tennis court and the three-bedroom pig barn from the 1800's, "which has seen its share of swinging summer soirees," according to the old listing.
Plus there's a regal heritage: Architect Goodhue Livingston built the place for himself in 1911, and hosted dignitaries and royalty there. It's since been rewired and renovated. "It's like a new house," Mr. Flagg said, "that's been enveloped by the old body."
All it needs now is new suitors and a closed contract.