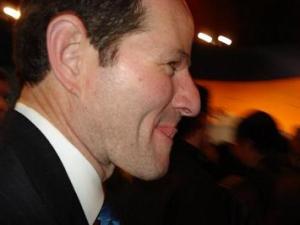 Eliot Spitzer, hater of all things status quo in Albany, just proposed a package of election law reforms that's bound to catch the attention of legislators.
"This package will effectively end the gerrymandering that has led New York to the highest incumbency rate in the country and preserved a status quo that for years has been counterproductive to the public interest," Spitzer said in a public statement.
Spitzer wants constitutional amendments to create a redistricting commission, allow for same day voter registration on election day, and ballot access for presidential candidates who qualify for matching funds.
The election law reform package includes, from the statement:
-A constitutional amendment creating an independent redistricting
commission to determine congressional and legislative apportionment.
Members of the eleven-member commission will be appointed by the four
legislative leaders, each of whom will select two members. The
remaining three members will be selected by a majority of the eight
members with the approval of the Governor.
-A constitutional amendment to allow voter registration on the day of
an election.
-Legislation to require consistent hours for polling places,
eliminate unnecessary and intrusive requirements for absentee ballot
applications, reduce the number of signatures required for
designating and nominating petitions, provide automatic ballot access
for presidential candidates who qualify for federal matching funds
under the Presidential Election Campaign Fund Act, eliminate
restrictive and unnecessary petition requirements, and enhance
criminal and civil provisions to protect the integrity of the
electoral process.