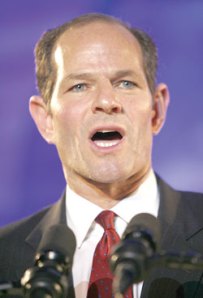 Cynthia Darrison, the woman who spent eight years building Eliot Spitzer's mighty fund-raising operation, has calculated that there's a market for people with skills like hers.
"I don't think donors themselves are necessarily in tune with why they're giving," she said in a telephone interview Saturday night from her home in Flatbush, hours before the fund-raising deadline for Presidential candidates.
"It's kind of like therapy," she said. "You know, we're all brilliant when it comes to other people, but sometimes it takes the other person to say: 'This may be why you're doing it, but are you in touch with that?'"
Betting on the premise that candidates and bundlers will pay good money to have such wisdom at their disposal, Ms. Darrison is finally cashing in on her public work by starting her own firm. And if all goes according to plan, Ms. Darrison said, her new company, Darrison, Barrett & Associates, will occupy an underpopulated niche in female-targeted fund-raising.
So it's like an equality thing—sort of.
"You see all these 'Women for Spitzer,' 'Women for Clinton,' women for whomever,'" she said. "And it's usually a lower-dollar amount. And it's a women's event—usually a pretty breakfast or a pretty lunch. And that's very nice, and I enjoy those, but women have to get beyond that and be at the table, like I said the other night, with the big boys."
Is Darrison, Barrett her way of getting a seat at that table?
"I was at the table before," she said.
Ms. Darrison joined the Spitzer operation in 1999. At the time, he was an incumbent attorney general who had run two largely self-funded campaigns (only one was successful). By 2006, he was a cash magnet, raising more than $20 million—enough to create the feeling of inevitability during most of his gubernatorial campaign.
Ms. Darrison said she still plans to help raise money for Mr. Spitzer as a volunteer.
Beyond that, even though she'll be getting paid by different clients, she predicted that her new job would amount to much the same as the old one: "I identify why I think a donor will want to give, what would be their motivations, and then I appeal to that."