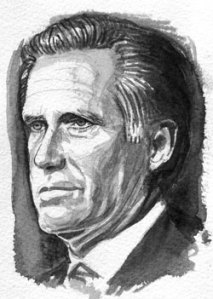 Their gaudy fund-raising numbers for the first three months of 2007 elevated Barack Obama and Mitt Romney to co-equal status with their respective parties' more established Presidential front-runners.
There is reason to believe that Mr. Obama's exalted standing could be of the lasting variety, since his financial support indicates an enviable mix of grass-roots fervor and professional muscle.
But Mr. Romney's view from the top may be very short-lived indeed.
Yes, the former Massachusetts governor showed off a savvy fund-raising operation by hauling in $23 million, easily surpassing Rudy Giuliani's $15 million tally and John McCain's comparatively anemic $12.5 million.
But Mr. Romney's political and financial positioning at this early stage actually invites a parallel to Phil Gramm and his lavishly funded—and epically catastrophic—quest for the G.O.P. nomination in 1996.
Mr. Gramm, then a second-term Senator from Texas, entered that race by aggressively playing to the party's right-wing base voters to capitalize on their well-grounded view that front-running Senator Bob Dole was not a true believer. (Newt Gingrich had dubbed Mr. Dole, a creature of the Potomac if ever there was one, "the tax collector for the welfare state.")
Mr. Gramm, who was fond of noting that he'd flunked the third, seventh, and ninth grades, crafted a stump speech that doubled as a checklist of every conservative interest group's pet issues, punctuating it with the assertion that he "was conservative before conservative was cool."
And then there was his Texas-sized bankroll. In the first quarter of 1995, Mr. Gramm, with his Schumer-esque fund-raising abilities, reeled in $8.7 million. That's nothing compared to today's numbers, but 12 years ago it was a haul—nearly double Mr. Dole's paltry $4.4 million first-quarter yield. The political establishment perked its ears up. Chris Dodd, then the general chairman of the Democratic National Committee, publicly predicted that Mr. Gramm, and not Mr. Dole, would be the Republican nominee.
"I have the most reliable friend you can have in American politics," Mr. Gramm shamelessly boasted, "and that is ready money."
Mr. Romney is playing the White House game the same way.
Since shifting his focus from Massachusetts to national politics in 2004, he has walked away from the positions and pronouncements that served him well in the Bay State in order to hew to the wish lists of conservative activists. To the many Republicans who still don't trust Mr. McCain and who will never abide Mr. Giuliani's social liberalism, Mr. Romney's grinning message is simply the following: "I'm one of you."
Now, after the former Bain Capital C.E.O. has leveraged his plutocratic Rolodex into a hefty war chest, the pundit class is fast warming up to the notion that Mr. Romney has the perfect combination of money and message—just like they once did with Mr. Gramm.
But keep in mind that Mr. Gramm's campaign ended up collapsing even before the New Hampshire primary. The reasons were myriad: over-inflated expectations, strategic miscalculations, prolonged blundering on a politically sensitive topic in New Hampshire, and an obscene "burn rate" of campaign cash with no discernible benefits in return.
The simplest explanation for his failure was that, beyond some initially promising poll numbers, voters just never took a liking to Mr. Gramm, whose disposition struck many as egotistical and overbearing. His assumption that the conservative base yearned for an alternative to Mr. Dole was correct, but they ultimately turned to Pat Buchanan and his castigations of "leap-year conservatives."
There are already signs of the Gramm campaign's profligacy in Mr. Romney's operation, which last week reported spending nearly $12 million of the $23 million they took in—a burn rate every bit as unsustainable as Mr. Gramm's.
And it's only a matter of time before Mr. Romney, who is blessed with a more agreeable personality than Mr. Gramm, sees his early appeal to conservative donors undercut by YouTube, where a steadily accumulating stockpile of videos documents his years of pleading insistently to Massachusetts' liberal-leaning electorate (as recently as 2002) that he was no kind of a Reagan conservative.
The clips, which no doubt will end up in his opponents' television ads, don't simply show a politician who's had a change of heart or two. They reveal a power-seeker with a practiced aversion to staking out even one unpopular stand with his target voters—whoever they happen to be at the time.
A half-century ago, Lyndon Johnson figured out how to be a hero to Southern segregationists and Washington New Dealers simultaneously, with neither side realizing what he was telling the other. But in this era of viral video, how can Mr. Romney claim the "conservative's conservative" mantle when he's left such a vivid, meandering trail?
Steve Kornacki works as an organizer for Unity08, a group that advocates a bipartisan Presidential ticket in 2008.