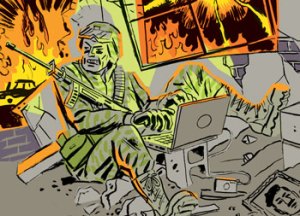 Live: Real Soldiers From Real Wars
"I don't want to hurt people; I'm not a sadist," said Jason Christopher Hartley, who served more than a year in Iraq as a soldier for the New York Army National Guard. "But any guy in the infantry—your job is to pull the trigger and kill people. On a visceral level, it's very intoxicating and natural, down to your basic instincts."
Mr. Hartley is the 33-year-old author of Just Another Soldier, a memoir, or what he calls a "blook"—"How nerdy is that?"—because the material was mined from the blog he kept during his year of service from late 2003 to early 2005. He will join three other soldiers who served in the armed forces—Ross Cohen, John McCary and Sangjoon Han—in the panel discussion "Voices from the Front: Iraq and Afghanistan" at the Housing Works Bookstore Café on April 12. Richard Robbins, director of the PBS documentary Operation Homecoming, and Devin Friedman, GQ senior writer and author of A Soldier's Portfolio: This Is Our War: Servicemen's Photographs of Life in Iraq, will also present photographs and discuss the soldiers' experience in Iraq.
"War is ultimately a human experience for the people who participate in it," said Mr. Robbins. "But there's such a huge divide between the military community and everyone else, the average American feels like they can ignore them."
This shouldn't be an evening of heated debate. "I don't want to talk about what we should do in Iraq; I'm more interested in the human side," Mr. Hartley told The Observer. He echoed sentiments from his memoir, in which he wrote: "If you are distrustful of the media and want to know exactly what's going on in Iraq, you'll have to pray for divine enlightenment, because only god knows what the hell is going on over here. However, if you want to know how it feels to be a soldier in Iraq, to hear something honest and raw, that I can help you with."
—Gillian Reagan
Chef for a Night
For many of us, a lack of space puts the notion of cooking dinner for a big group of friends squarely in the realm of pipe dreams and summer timeshares. And even for those blessed with large-enough tables, the prospect of serving more than salad and pasta spells takeout.
Yet this doesn't have to be the case. Or so says Abby Hitchcock, co-owner and head chef of cozy Village eatery Camaje. Her restaurant's "One Night Stand" program helps the I-just-know-I-was-a-chef-in-another-life set tap into their inner Julia Child. By making available her fully equipped restaurant kitchen, top-notch culinary skills and delightful dining room, groups both large and small gladly cheat on their apartment stoves for this memorable affair. Plus, she helps plan the menu—which needn't be restricted to Camaje's delicious French-American bistro cuisine—and provides all the ingredients, so all one needs to do is show up two hours before the guests arrive.
"Amateur cooks like to cook at home, and they want to have the restaurant experience. [Professional] cooking can seem like a mystery to some people, but then you realize that it's just like cooking at home …. Except cutting an onion properly is always eye-opening for people," said Ms. Hitchcock, who helps even the most novice chefs whip up dishes like crispy duck confit with greens and rhubarb compote, olive-and-mustard-crusted rack of lamb and crème brûlée with lavender craquline. "One funny thing is that almost all of the time, women know what they want for dessert first and work backwards, while men always say they'll have to consult a woman before choosing that course," she said.
But in the end, it matters not whether your palate favors sweet or savory fare. After serving your very own three-course feast, washed down with perfectly paired wines, nothing beats taking home a doggy bag filled with the gratitude of friends and, of course, those newly acquired knife skills.
—David Foxley
Secret Bar, Stunning Scene
After unearthing one of those mysterious unmarked bars in downtown Manhattan, the lack of signage makes sense. What with their lists of $20 libations, tiny aphotic rooms and inconvenient addresses, proprietors have to be sure that their guests are down for the hoity-toity rigmarole. But at Larry Lawrence, a bar on Grand Street in Williamsburg, the hip factor and its easy-to-miss façade are mutually exclusive.
"We just wanted to have a nice, quiet lounge," said Ook Seo, one of Larry Lawrence's proud owners. The volume might be relatively low, but the interior space definitely makes its presence known. Featured in the pages of an architecture book, the owners of Larry Lawrence used the city's ban on smoking to the advantage of all customers, not just those seeking to couple their sidecars with a few satisfying puffs. "What we're known for is the smoking deck: We actually cut part of the roof out and built another level," the owner gushed. And from the main indoor room, the people gathering on the glassed-in deck above only add to the striking scene. Describing the lofty room's effect, one visitor said, "It's really wild; from the floor of the bar, it's like watching an evolving art project. There are all these legs and shoes and arms moving around." And though Mr. Seo has turned down several requests from artists wanting to use the setting for a performance piece, Larry Lawrence does hold film screenings during the warmer months.
But this is not a place for scene-seekers hoping to find the exclusivity nurtured by expensive cocktails and bottle service. "Our prices are still Brooklyn prices," Mr. Seo explained. "We allow people to call ahead and we'll reserve a table, and we don't charge anything for that. The idea is that it's less work for us. It's nice to have a place where, if you call, they'll hold a table for you."
—David Foxley
Kiss and Tango
Are you stumbling through your love life? O.K., maybe even tripping, flailing and falling flat on your face? Allow saucy tango instructor Cesar Coelho to guide your two left feet through the "slow, quick, quick, slow" dance of romance at the La Belle Epoque Tango Club on April 13. Held every Friday at the Ukrainian East Village Restaurant, this scintillating dance and (optional) dinner night is sure to spice up your spring.
This week, Mr. Coelho will instruct novices how to dramatically dip, twirl and even head-snap! He's a 22-year-old affiliated artist of Dance Manhattan and has appeared in the Broadway show Forever Tango and the Oscar-nominated dance film Tango. According to his online bio, with "his long, lean, elegant style, strong presence and seductive movements, this dancer is sure to captivate any audience." But a warning to the faint of heart: This brown-eyed babe is sure to make yours skip a beat.
—Gillian Reagan