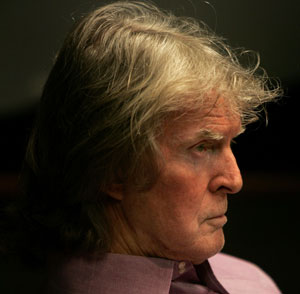 "I feel vindicated," Philip Nobile said.
It was the afternoon of April 14, two days after CBS had dumped Don Imus from the radio, and Mr. Nobile, 65, was at home in Cobble Hill. Long before Mr. Imus chose to refer to the Rutgers women's basketball team as "nappy-headed hos"—and long before the Reverends Al Sharpton and Jesse Jackson clapped the talk-show host in the pillory—Mr. Nobile, a longtime journalist turned high-school history teacher, had been waging a campaign to get Imus in the Morning off the air.
Mr. Nobile lives in a former Catholic school that has been converted into apartments. A pedestal in his living room that once held a statue of St. Agnes now holds a black-and-white photograph of the atomic bomb that was dropped on Hiroshima.
For eight years, Mr. Nobile wrote anti-Imus articles, filed a complaint with the F.C.C., beseeched regular guests to boycott Mr. Imus' show, and patrolled Imus location shows with a sign reading "Imus Is a Racist." Yet during Mr. Imus' downfall, Mr. Nobile said, he received only a single call about his availability to appear on television—from a producer at Hardball, a possibility that fizzled out.
"I'm not surprised," Mr. Nobile said. "They know that if I came on their shows, I would be criticizing them and their organizations. I don't just go after Imus—I go after his bosses." He crossed his arms. He was wearing a maroon sweatshirt and khakis.
Often hectoring in print, Mr. Nobile was convivial in person. A graduate of Holy Cross—a few years ahead of Hardball's Chris Matthews—he studied philosophy in Belgium to avoid the Vietnam draft. Back in the states, he started a journalism career at Catholic publications, then moved on to stints at the Esquire, New York and The Village Voice. He published books on a variety of subjects, and earned a reputation as a contrarian and controversialist, taking up crusades against the likes of Alex Haley, Doris Kearns Goodwin and David McCullough.
Mr. Imus started off on Mr. Nobile's good side. In the early 90's, Mr. Nobile said, when he was writing for The Voice, some of his articles—including an exposé of a pedophile priest—captured Mr. Imus' attention and praise. In 1992, Mr. Nobile co-authored a sex manual and natural history of the female orgasm, titled The Perfect Fit. Mr. Imus loved the book and hyped it for days, helping net Mr. Nobile a paperback deal.
"I was a friend of Don Imus," Mr. Nobile said. "And I was the first white friend of the show to publicly break from the program."
But Mr. Nobile said he became ever more troubled by the Imus show's wisecracks. In 1999, he took a freelance assignment to write about sportscaster Mike Breen for The New York Times. Mr. Breen was announcing WNBA games for NBC, while regularly appearing on Imus in the Morning—where, Mr. Nobile noted, female athletes were ridiculed as lesbian lowlifes.
The Times piece went unpublished, but Mr. Nobile had set off in crusading-investigative-reporter mode. He wrote articles critical of Mr. Imus for The New York Press, Newsday and the Columbia Journalism Review. He began waking up early and recording Imus in the Morning, sending transcripts of the most outlandish bits to TomPaine.com, where they were published in an ongoing "Imus Watch." In May of 2000, the foundation behind TomPaine.com paid for an advertisement in The New York Times, spelling out Mr. Nobile's case against Mr. Imus. (The ad quoted the "Imus team" calling Gloria Estefan a "little Chihuahua-looking ho" and CNN's female anchors "dyke-y broads.")
Mr. Imus' career went on unimpeded. Mr. Nobile had more success with personal recruitment: He convinced Clarence Page—a black, Pulitzer Prize–winning Chicago Tribune columnist and Imus regular—to join the cause. In 2001, during a guest appearance on the live broadcast, Mr. Page asked Mr. Imus to join him in a pledge (which Mr. Nobile authored in part) to, among other things, "cease all simian references to black athletes." It was the last time Mr. Page appeared on the show.
Mr. Page, reached by phone, credited Mr. Nobile's humorless approach for goading him into the on-air confrontation. "Every argument I had for weaseling out of it, he shot down," Mr. Page said.
Mr. Page said he'd first crossed paths with Mr. Nobile in 1993, when he defended Mr. Haley from Mr. Nobile's accusations of plagiarism. The two journalists appeared together on NPR to debate the subject.
 "Phil is a bulldog," Mr. Page said. "He has that kind of tunnel vision which allows him to follow a story endlessly."
Mr. Nobile trained that tunnel vision on Mr. Imus' other regular guests—lobbying journalists such as Bob Schieffer, Howard Kurtz, Frank Rich and Jonathan Alter to renounce the show.
Mr. Alter said that Mr. Nobile's tone and pressure tactics undermined what was, in retrospect, a good argument. "Most people ignored him entirely," Mr. Alter said. "I don't believe in that. But the more I engaged with him, the more abusive he became."
The only converts to the Imus boycott, Mr. Nobile said, were a handful of black guests, including Ed Bradley, Stanley Crouch, Gwen Ifill and Mr. Imus' recent prosecutor, Mr. Sharpton.
When the Rutgers controversy broke, Mr. Sharpton refused to appear on Imus in the Morning to discuss it, insisting instead that Mr. Imus appear on Mr. Sharpton's own radio show, where his middling apology helped seal his fate.
Before the final blowup, Mr. Nobile said, he was working on an article about where the Presidential candidates stood vis-à-vis Imus in the Morning. He was also writing a novel, which revolves around a fictionalized version of the late Stephen Jay Gould revising the Catholic Church's sex laws. The title is Sex with the Pope.
Now, Mr. Nobile said, he is considering an Imus book. He gestured at two cardboard boxes on his kitchen counter. They were stuffed with analog tapes, on which he had recorded dozens of Imus in the Morning shows over the years. Somewhere else, he said, there was a third box.
 "This is basically the uncensored Imus," Mr. Nobile said, looking at the tapes. "It's hard to let go."