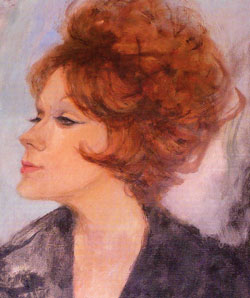 Rediscovering Tammy Grimes, who is currently electrifying New York sophisticates at the new Metropolitan Room in Chelsea, isn't exactly a shock in a town that lives on an adrenaline rush. You can't exactly call this a comeback, because she's never really been away. But for a legendary star whose legend has been missing from the center spot for a few decades, you might call it a long-overdue "return" that has achieved the status of a cabaret "event." Whatever it is, it's the best reason I can think of to stay out late. The unsinkable Tammy looks like Colette, sings like a cross between a battered Dietrich and Little Lulu, and is someone pretty special indeed.
Let's face it: The golden age is dead. I'm talking Merman and Lahr and Gertie Lawrence. Tammy Grimes brings back some of the missing magic. In fact, she is some of the missing magic. In Broadway history, she was a footnote, but now the footnotes are as important as the chapter headings, and Tammy is the scrapbook and the clippings, too. There's been too much water in the moat since 1959, when the well-bred girl from Boston with the sly smile and the über-extravagant vocal affectations of a dispossessed duchess was introduced by her friend Roddy McDowall to his friend Noël Coward, who signed her for the starring role in Look After Lulu and became her mentor in a career that rocked the theater world. But when Ms. Grimes steps out of the shadows onto the shoebox stage of the Metropolitan Room, reprising the lyrics from High Spirits, the 1964 musical version of Coward's Blithe Spirit, time does indeed stand still. The song is "Home Sweet Heaven," sung by a glamorous ghost who crashes to Noël Coward's earth and waxes nostalgic about how much livelier everything was up in the big celebrity hangout in the blue. Name-dropping in rhyme about every pal she left behind from Gertrude Stein to Joan of Arc, Tammy proves she can still haunt both a song and a show. She's downright hilarious on the comedy numbers, and she breaks your heart on the ballads. The material, which runs the gamut from Kurt Weill to Jimmy Buffett, is the kind of witty, eclectic program she used to perform in the 1950's in such soignée watering holes as Upstairs at the Downstairs and the Blue Angel. Those were the days when People Who Knew Things were just getting their second wind around midnight, and everybody got home in time to greet the milkman. Nobody watched Turner Classic Movies. They were living Turner Classic Movies.
Crazy as it seems, I'm so familiar with her endearing eccentricity that I don't even think of Tammy as odd anymore. I just think of her as uniquely … Tammy! Flirty and flamboyant on "Rose of Washington Square" or encapsulating the promise and pain of her own life in Coward's "If Love Were All", she wrings you out and leaves you to dry. The thing is, Tammy is a real actress (two Tonys and a trunk full of other awards) who cuts to the subtext of every song with humor, pathos and honesty. The lyrics are dramaturgy, and when she can't sing them, she just talks them. It seems perfectly natural. You never ask, "Huh?" Perfect example: We've all heard "Ring Them Bells" sung a million times by Liza Minnelli, so it's courageous, if you ask me, for someone else to tackle it, but Tammy polishes it up with a whole new character spin, amazingly fresh and funny, wringing her hands up and down like someone in a blizzard shaking off the snow.
A few snowflakes have fallen on Tammy Grimes herself through the years, but if the vocal strength comes and goes at intervals, who cares? I'm less interested in pyrotechnics than soulful interpretation, which she gives us in spades. If the range of a song is too wide, she just acts the damned thing. It doesn't matter if the timbre frays or the pitch wanders, because the heart always shines through. She isn't afraid to show vulnerability, while the maturity of a woman who has lived masks the joy of youth within. These are qualities that actor-director Joel Vig must have admired, for he has sensitively and cleverly constructed the act to bring them all to life, and with the aid of accompanist Dennis Buck, they have brought Tammy Grimes back to life as well. Bravo. They got her out of the house, pushed her onto a stage again where she belongs, and the audience wolfs it down like Dove Bars. When she finally gets around to "I Ain't Down Yet!," the Meredith Willson song she belted out in The Unsinkable Molly Brown after surviving the sinking of the Titanic, you know she means it. At 73, Tammy Grimes is just getting started.
Shaggy Dog
In Year of the Dog, an uneven satire about that special American political subculture of delusional neurotics called animal worshippers, Peggy and Pencil are roommates, best friends and inseparable companions. They sleep together, eat together and watch movies together. There's only one thing wrong: Pencil is a beagle. When he dies suddenly from poison slug bait in the yard of a neighboring game hunter (John C. Reilly), Peggy (trapezoid-faced SNL alum Molly Shannon) has a breakdown and turns into (1) a gray-complexioned vegan freak who won't even eat a cupcake if it has butter in it, and (2) a wacko activist obsessed with saving everything with a motor mechanism, except humans. Peggy could have been an interestingly flawed kook. Unfortunately, offbeat writer-director Mike White, whose unusual screenplays for The Good Girl and Chuck & Buck are personal favorites of mine, does not know how, in his directorial debut, to rescue his own characters from self-pity, abandoning them to various depressing fates of their own choosing, all of which occur off-screen. In this case, less is definitely less.
Among the people who try to save Peggy are a gay pet-shelter dog trainer (Peter Sarsgaard); a creepy, self-absorbed brother (Tom McCarthy) and his maddeningly materialistic, logic-challenged wife (a riotous Laura Dern, who gets laughs just by staring cluelessly at the evening news); and a boss (Josh Pais) whose sympathy turns to rage when Peggy forges his name on checks to fight the clubbing of baby seals. For Christmas presents, she gives certificates of sponsorship for abused chickens. While babysitting, she drowns her sister-in-law's fur coats and traumatizes the children so severely that the sight of a hot dog sends them into hysterics. By the time she adopts 15 dogs with personality disorders that destroy her house and force the neighbors to call the city health department, I was wondering how many members of the audience would lose interest in Peggy, side with me and wash their hands of the whole thing.
The movie is original and disappointing at the same time. But I still have faith in Mike White. His camera colors things with a special gel and frames them from irregular angles. He creates curious characters who march to the sound of their own peculiar percussionists, then observes them with a special irony. They are always obsessive about loopy issues that do not translate into normal life, and they are usually funny without being jokey, self-conscious or sitcom-predictable. But in Year of the Dog, they show no real emotional involvement with their environment or each other. Some of them (especially Mr. Sarsgaard) border on catatonia. Mr. White based Year of the Dog on his relationship with a cat that wandered into his yard and died in his arms on Christmas Day. I wonder what this movie would have been like if it was called Year of the Cat.
Move Over, Lecter
Disturbia is a paralyzing thriller that breaks new ground in horror and is guaranteed to make you scream out loud. It stars a talented, innovative and appealing young actor named Shia LaBeouf, and was directed by D.J. Caruso with raw energy and so much economy that one gripping scene moves effortlessly into the next before you can inhale. Every frame counts for something—there's not a wasted minute in it—and when the roller coaster finally stops, you may need a Valium.
Young Mr. LaBeouf plays a California teenager named Kale who is so unhinged after the death of his father that he slugs a teacher (a felony in California) and ends up spending the summer under house arrest with an electronic-monitoring device clamped to his ankle. He jokes that he's got a whole Martha Stewart thing going on, but he's no good at decorating pastries. He's tired of videogames, junk food, surfing the Net and watching cable, but he can't wander from his porch beyond a 100-foot radius. Like Jimmy Stewart in Rear Window, he's incapacitated and bored, so with a lot of free time on his hands, he starts spying on the neighbors. With an arsenal of technology, he arouses the curiosity of his mischievous best friend (Aaron Yoo) and the sexy girl who just moved in next-door (Sarah Roemer), and they turn their focus on a mysterious man who comes and goes at odd hours with an assortment of women who enter his house but never come out. Is that blood dripping from those lumpy garbage bags in his garage? Using binoculars, camcorders and cell phones, the three kids turn Kale's bedroom into a stakeout, focusing on the neighbor's windows in between news reports of a serial killer at large. Played by the versatile and always riveting David Morse, the "suspect" turns the tables on them, showing up at the most unexpected times and locations. Is he just an eccentric who craves privacy? Or is he one of the most diabolical psychopaths in the annals of unsolved crime? When he shows up in Kale's kitchen, unctuously befriending Kale's mother (Carrie-Anne Moss), the hair on your neck begins to itch, but you ain't seen nothin' until the kids find their way into the crawlspace under the neighbor's floor. Disturbia turns into the horrifying Apt Pupil (the memorable Bryan Singer hair-raiser about the Holocaust student who discovers, stalks and befriends a Nazi war criminal living in suburbia, with stomach-churning consequences), but when the game builds to a state of palpitating paranoia, it further morphs into The Silence of the Lambs.
The gifted and resourceful Mr. LaBoeuf is a young actor worth keeping an eye on, and director Caruso mounts a neat sense of suspense with tight camera angles and judicious, fast-paced editing. Best of all, he achieves maximum terror by making every minute totally believable. Realism sinks into your eyes, nose and bones like the smell of a rotting corpse just outside your peony bed. In an overcrowded field, Disturbia is one thriller that truly earns the label.