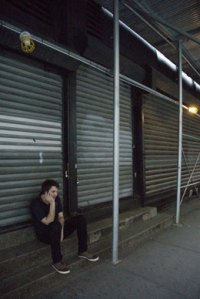 Sunday night used to be "Latin Night" at Club Deep on West 22nd Street.
According to the nightclub's Web site, the weekly event featured "some of the best-known Latin and Reggaeton acts hitting the stage and mixing it up with the best DJs in the game," with doors opening at 10 p.m.
Yet no one, Latino or otherwise, appeared to be "mixing it up" at the Flatiron district club even after midnight this past Sunday. The reportedly 21,000-square-foot dance hall—located on the ground level of an office building between Fifth and Sixth avenues—was all locked up behind metal shutters.
Albeit probably several months too late, the apparent abandonment of the club's Latin-themed dance party will undoubtedly help keep the sprawling nightspot afloat—at least until July.
On Tuesday, a panel of appellate justices granted the club a preliminary injunction that allows its bartenders to continue concocting pricey cocktails—but only so long as the place stays shut on Sundays.
The court-ordered seventh-day condition is not the result of some backwater blue law.
Back in November, the State Liquor Authority rejected Club Deep's request to renew its liquor license, citing what the gubernatorial-appointed panel deemed a "false material statement, concealment, or suppression of facts," according to court records.
Acting on a tip from a complainer in the neighborhood, an undercover S.L.A. investigation revealed that, contrary to owner Constantin Serban's original plan to host dance parties on Thursday, Friday and Saturday nights, management had secretly switched to a Friday, Saturday and Sunday schedule.
And it did so without ever having notified the S.L.A.
The slight contradiction in paperwork and practice might seem trivial to any round-the-week bar-hopper in this so-called "City That Never Sleeps." But it's just the kind of shifty nighttime trick that has the regulatory sticklers at the S.L.A. on vigilant lookout.
Warning to all prospective New York City bar operators: Be careful what you write down under "method of operation" on that all-important liquor-license application. It could come back to haunt you.
As part of a concerted effort to prevent more purportedly genuine white-tablecloth-style, chef-manned restaurants from devolving into neighbor-annoying noisy nightspots with menacing-looking, muscle-bound bouncers, the three-member S.L.A. commission has apparently become a trio of strict constructionists.
"We wanna know what kinda place they're running—and when they say, 'We wanna do this,' we wanna hold 'em to it," S.L.A. spokesman William Crowley explained bluntly.
With a slew of holiday parties on tap this past December, including big corporate throw-downs with crews from Goldman Sachs and Morgan Stanley—and with the club's prior owners still owed $550,000, according to court records—Mr. Serban & Co. couldn't afford to skip the bottle service.
Instead, his corporation sued the S.L.A. in order to keep the bubbly flowing, citing every embattled bar owner's best friend, Article 78 of state law, which allows for judicial review of administrative decisions any time a government agency might have acted in an "arbitrary or capricious" manner.
The S.L.A.'s rather harsh punishment—based solely, according to Club Deep's court complaint, on "the fact that [the club] decided to open for business on Sundays"—might seem to qualify.
Not according to Judge Marcy Friedman, however, who quickly dismissed the club's original complaint this past February.
The venue's fate now rests with the appellate court, which demanded that the club stick to its original no-Sunday schedule until the court case is settled. Lawyers for the club are expected to file briefs by July 9.
In addition to government opposition, Club Deep further faces a possible confrontation with residents of four nearby condo and co-op buildings, represented by frequent bar-battling attorney Barry Mallin. According to court papers, the homeowners' associations of the buildings also want the club shuttered permanently.
"You have fighting, screaming, and crowds of people spilling out of the club—it's been a constant thing on weekends and Sunday nights," said Mr. Mallin.
Amid all the legal filings, club management has quietly adopted more operational changes that it might want to tell the S.L.A. about.
Perhaps in an attempt to attract less attention, the storefront signage and marketing materials now indicate a new nondescript moniker for the venue. Once known as Ohm, the now-former Club Deep is presently called, um, Venue.
A call to the club on Monday resulted in a recorded message that should please both regulators and the court: "We are currently open Friday and Saturday evenings, with rotating dance parties on each night."