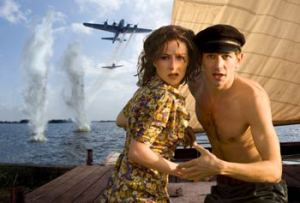 Paul Verhoeven's Black Book, from a screenplay by Gerard Soetman and Mr. Verhoeven, based on a story by Mr. Soetman, happens to be Mr. Verhoeven's first film in six years. Happily, it was well worth the wait as it pushes all sorts of envelopes—political, historical and erotic—against the sanctified background of the Nazi Holocaust, hitherto unthinkable as the linchpin of a lively melodrama like Black Book. This provocative film has already aroused protests in the Netherlands over its suggestion that in the revered Dutch Resistance there were traitors and opportunists who seized the chance to profit from their Jewish neighbors by betraying them to the Gestapo in order to share in their money and jewelry. Mr. Verhoeven is particularly audacious in making an enlightened Gestapo officer—played by Sebastian Koch, who was cast as the idealistic playwright in The Lives of Others—as some sort of hero amid the villainies of supposed Dutch patriots. But then Mr. Verhoeven has been pushing one envelope or another throughout his career, both in Holland and in Hollywood.
After gaining prominence in Europe with Turkish Delight (1973), Soldier of Orange (1977), Spetters (1980) and The Fourth Man (1983), Mr. Verhoeven burst upon the American scene with big-budget blockbuster projects like Robocop (1987), Total Recall (1990) and Basic Instinct (1992), all of which did better at the box-office than with critics. Hence, his first Hollywood commercial flop, Showgirls (1995), left him with few defenders. Starship Troopers (1997), a futuristic sci-fi war movie pitting man against insect (with gruesome disembowelments involving both species) did little to restore his fortunes. The Hollow Man (2000) followed with a convoluted version of the Invisible Man genre, to no great acclaim. Somehow, Mr. Verhoeven never followed the accustomed path of foreign art-house deities with their well-manicured humanistic handprints. Instead, he was more a forerunner of fun-oriented action directors like Quentin Tarantino.
Mr. Verhoeven's Black Book is especially startling for its extraordinarily empowered heroine, Carice Van Houten's Rachel Stein/Ellis De Vries, a nubile Jewish temptress out of the Old Testament, who doesn't hesitate to dye her pubic hair blond to fully qualify her to enter a Gestapo chief's bed on the orders of her Resistance superiors. She also stashes a microphone under her garter belt and plants it in a Gestapo office. This inadvertently leads to still another massacre of Jews through a fantastically complicated intrigue. At one point, she escapes capture and certain death by a cinematic crowd effect reminiscent of the stirring climax of Marcel Carné's Les Enfants du Paradis (1945). I have scattered these snippets of the narrative to suggest how outrageously Rachel's adventures and misadventures unfold in the course of a spectacle that would have made poor Anne Frank blush with embarrassment. Certainly, Black Book is no Schindler's List, with its pathetically self-congratulatory pats on the back for the tiny drops of kindness shown by its protagonist in the midst of an ocean of monstrous cruelty.
The Nazis are certainly monstrous enough in Black Book, but their various antagonists are far from knights in charmingly shining moral armor. Instead, they are human beings, which means that they were then—as they have been ever since—very fallible creatures with more than their share of scoundrels among them. The entertaining virtues of Black Book make a full-scale reappraisal of Mr. Verhoeven's total career mandatory. But like so many of the more interesting films opening in New York this year, Black Book is in very limited release, much like Andrea Arnold's Red Road, another worthy entry in this year's unheralded treasure hunt.
One of the interesting sidelights of Black Book is the presence in the ranks of the anti-Hitlerites of a reasonable proportion of dedicated Stalinists and devout Catholics. Soon these two groups would be at each other's throats. Heaven knows what would've happened back then if Islamic extremists had also had a part of the action. O tempora! O mores!