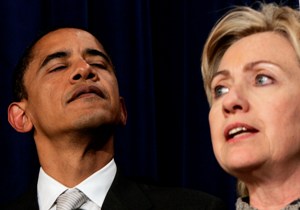 The warring (and incredibly wealthy) Pritzker family seems to have carried its feud into presidential politics.
Penny Pritzker, Barack Obama's national finance chair, is the niece of Jay Pritzker, whose death in 1999 sparked an ugly internecine inheritance battle over the Hyatt hotel chain and other enormous family assets.
A plan to pass control of the empire to Penny and two other relatives collapsed in 2001 when another wing of the family filed suit. A settlement was eventually reached, but apparently there are still plenty of grudges, which may explain the division of Pritzker names donating to Hillary Clinton and Obama.
Hillary has the support of the California Pritzkers, a branch that includes Penny's brother, Anthony N. Pritzker — the director, and co-founder of the Pritzker Group. Jay Pritzker's son John A. Pritzker, who served in various executive positions within the Hyatt Corporation, and his wife Lisa Pritzker, a women's health advocate, are also with Hillary.
Obama has the Chicago Pritzkers behind him. There is Penny, of course, and also her cousin Thomas Pritzker, who, like her, was supposed to inherit the bulk of the family fortune before the lawsuits came. Thomas' wife, Margot, founder and president of WomenOnCall.org, and his mother, Marian, widow of Jay, also contributed to Obama. Karen Pritzker, who is from Chicago but just bought an apartment in Manhattan for $12.5 million, also gave to Obama.