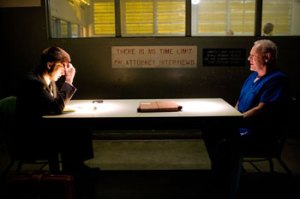 How moviegoers in the multiplexes of middle America choose to spend their ten-spot is probably a big deal in Hollywood.
But here in Manhattan, the hottest movies aren't always the ones making the big bucks nationwide.
Using Nielsen numbers for Manhattan theaters alone and comparing them to the performance of the national weekend box office can tell you a lot about our Blue State sensibilities. Or nothing at all! Each Monday afternoon, we will bring you the results.
Spring weather wouldn't seem to be an inducement to hit the theaters, but Manhattanites got enough of the seasonal fever for lapping up Ryan Gosling in Fracture-that other movie where the knighted actor Anthony Hopkins plays a cultured yet homicidal maniac.
This time Hopkins kills his wife, which apparently played well on the Upper West Side: Fracture edged out Disturbia for the number one slot in Manhattan.
Disturbia, which is currently lording over the national box office, did not even take the number two slot in Manhattan. That honor goes to Hot Fuzz, a bobbie spoof from the makers of the hilarious Shawn of the Dead.
It had an impressive first weekend: It took the sixth spot in the country based on total gross, despite only being shown on 825 screens. (All the other top 10 films in the country are showing on north of 2000 screens.)
And Perfect Stranger continued its impressive Manhattan run. Despite poor showings nationally, the Halle Berry, Bruce Willis thriller was the number one movie in the city last weekend, and was fifth this weekend. Was it Halle? Bruce? She's a journalist; he's a businessman. Are we that predictable?