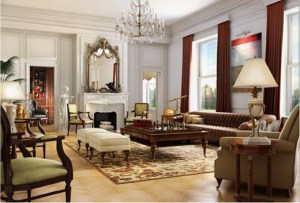 Has a metropolis ever had such a lengthy era of debauched prosperity? Will the bubbly prices of hard-boiling Manhattan real estate ever simmer down?
No.
According to a source, a condo at the newly refurbished Plaza Hotel has gone to contract for at least $50 million, which quite easily makes it the biggest apartment sale ever in New York City.
The Observer reported the deal first on its Web site late Friday.
Since late 2005, the priciest apartment in the city belonged to sharp-tongued hedge-fund sovereign Daniel Loeb, whose penthouse at 15 Central Park West reportedly cost $45 million. It isn't clear if this mammoth Plaza deal, like Mr. Loeb's, is for a combined-unit apartment—but some buyers are reportedly combining up to five hotel units each.
The Plaza has always been a land of miraculous, magical affluence: Eloise mixed stiff martinis for Truman Capote in the Grand Ballroom, while Frank Lloyd Wright took his Oak Room tea with Alfred Gwynne Vanderbilt, as Prince Alwaleed bin Talal and Sinatra waltzed beneath the Palm Court's stained glass.
El-Ad Properties bought the building in August 2004 for $675 million, but refurbishing the 805-room hotel has cost $400 million more. The Plaza will open in October with merely 282 hotel rooms, plus 182 condos with wireless touch-pad control panels, walnut-bordered herringbone parquet floors and bathroom tiles from the mosaic Plaza lobby.
But because the building is still under construction, buyers have had to buy their apartments without seeing them firsthand. According to Bloomberg News, a Russian tycoon and his daughter walked away from the Plaza's penthouse because sales agents refused to show it.
Until now, last year's $53 million sale of the Harkness Mansion had been New York's only residential deal to rise above the debauched $50 million mark. Could the Plaza sale beat Harkness? Did the record-breaking buyer sign a contract without seeing the goods? And just who is the buyer?
A spokesperson for El-Ad Properties wouldn't comment, and would neither confirm nor deny this sale.