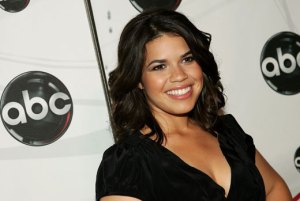 Ugly Betty's Mark Indelicato, decked out in a tux with a candy-apple red vest, lead a Broadway-like performance of "One Singular Sensation," to open up ABC's Upfront presentation yesterday afternoon. America Ferrera and the rest of the cast joined him, kicking up their heels in a chorus line. (We see a very special musical episode of Ugly Betty on the horizon.)
Although the network is trailing behind Fox and CBS in the ratings, ABC seemed at least able to poke fun at themselves with their song and dance for advertisers and the media.
We weren't exactly at the extravaganza. ABC stuck reporters in the simulcast room in the network offices, just blocks from where the actual Upfront was happening at Lincoln Center's Avery Fisher Hall yesterday afternoon. But ABC's screening still managed to be more fun than NBC's glum-fest. Drumming up nostalgia, a DJ spun theme songs from sort-of old like The Wonder Years. Late-night frat boy Jimmy Kimmel made commentary during live camera shots of the audience displayed on the big screen. And instead of projecting silly, corporate-speak stats on the screen (like NBC's "Friday Night Lights is tied for the #2 median income among all primetime network series ($68,000) behind only The Office,") ABC had a screen that showed a jolly Mr. Kimmel and various jokey signs: "8% of you are going 'commando' right now."
Mr. Kimmel didn't hesitate to get in on the low-ratings blame game that CBS is playing right now, harping on Evening News anchor Katie Couric while making a quip about the bold move ABC's made in setting an end date for island-drama Lost (the 2009-2010 season will be its last): "I think CBS has a similar game plan for Katie Couric," he said. Oh snap!
Mr. Kimmel also did a little stand-up routine, doing some more inter-network dissing. He said ABC's new game show Bingo, "is a show for those viewers who are caught off guard by the complexity of Deal or No Deal."
Then came more jabs at the other networks.
ABC president Steve McPherson said, "I heard NBC cut [network president] Kevin Reilly's dance number. What's up with that?" He was referring to Mr. Reilly's assertion on Monday afternoon that they were cutting down on the "song and dance" at their Upfront, and had to cancel an Irish step dancing number. Sorry we missed that!
Mr. McPherson took another little jab at NBC's push on web-centered advertising with their concept of "webisodes," interactive online voting, and even an internet-based Fantasy Talent Agency in which participants get points when their assigned characters do their signature lines or moves in primetime (Steve Carell's character said "funtivities?" Score!).
"The bottom line is what do people want to watch? Because of that, I don't focus on technology," said the ABC president. "What I am passionate about is creating the best shows."
And so in a moment ABC had defused the bomb that Jerry Seinfeld had set at the previous evening's presentation by NBC.
ABC has a right to be slightly more light-hearted. They're attracting the wealthiest viewers and are No. 1 on Sunday and Thursday nights.
The new drama line-up looks promising. With mega-hits Lost, Desperate Housewives, Grey's Anatomy and Dancing with the Stars still holding strong, the network should have a strong season and crawl its way up the Neilson rankings.
Four seems to be ABC's lucky number this season.
Four new dramas and comedies feature four characters in each show. Big Shots, from Kids in the Hall's Bruce McCulloch, follows four executive types, two of whom are played by the always yummy Michael Vartan and old hand Dylan McDermott. Cashmere Mafia, predictably from Sex and the City creator Darren Star, centers on four career-oriented, sexy ladies. Carpoolers is about four guys commuting into work everyday to share stories about their wives and losing their respective virginities. Women's Murder Club satisfies the everlasting hunger for cop/death shows and features four San Francisco women who solve murder cases.
Perhaps the network is weary of those numerous ensemble casts, what with all of the hubbub on the set of Grey's Anatomy after Isaiah Washington spewed anti-gay remarks and upset the entire cast last fall.
Or maybe it's the fact that Lost has lost close to ten million viewers since its peak, folks tired of watching repeats of the show's bazillion characters chase and escape from the Others. Can you blame them? Seriously, it was like getting trapped in Groundhog Day for a while there.
But of course the all-star cast will return mid-season with back-to-back episodes; in the meantime, Dirty Sexy Money will take its place on Wednesday nights. Six Feet Under's Peter Krause, looking a lot less dreamy and bad boy-ish than he did in HBO's hit, leads this promising new drama about a lawyer who works for – and is manipulated by — a moneyed Hilton-like boss.
"Pushing Daises," from Heroes' executive producer Bryan Fuller, looks like the most daring show to come so far. Think Edward Scissorhands meets the modern-day How the Grinch Stole Christmas. It's bright and whimsical and ooh shiny! Not to mention that it features a neat storyline about a guy named Ned who can bring people back to life with his touch, but can't caress or kiss his childhood sweetheart ever again, or else she'll be dead forever. The much-buzzed about Private Practice, the Grey's Anatomy spinoff, looks interesting, too. But even network execs said it needs more work.
For comedies, the crappy preg-fest Notes from the Underbelly should've been canned along with the George Lopez show. But the network is keeping their baby drama and adding four new comedies.
Cavemen, starring those oafs from the Geico commercials, looks like a flop full of bad jokes and terrible make-up jobs. There's also Miss Guided, about Judy Greer's character returning to high school to redeem her nerdy past as a guidance counselor.
What about Brian also got the axe, although "Brian," or Barry Watson (originally of 7th Heaven!), will appear in Sam I Am as the boyfriend of Christina Applegate's character. She comes out of a coma, having forgotten her life as a raging bitch and sets out to learn how to amend her beastly past.
And now we know the next trend in TV: redemption stories. Is it just us, or does Sam I Am sound an awful lot like a certain NBC show about a shaggy dude who does good deeds to make up for his past?