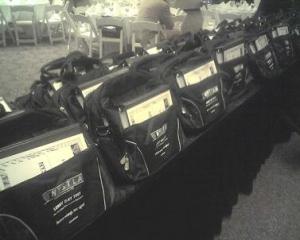 Almost every night in Albany, there's some group hosting a reception for lawmakers. If they're lucky, it's open bar. If they're really lucky, there are giveaways, like this nice side bag (stuffed with information!) from the New York State Trial Lawyers Association.
The group held their get together in the Hart Lounge just off the main concourse in the capitol. It was within walking distance from the all the legislative offices and drew a fairly good crowd for a Monday night. Also having events last night was a group representing correction officers, according to lawmakers who I ran into yesterday.
If there are any others we ought to know about, let me know.