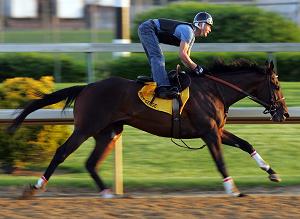 Street Sense won the 133rd Run for the Roses at Churchill Downs this afternoon, coming in from 19th to win by a stretch.
'I wish my momma and daddy was here, this is the greatest moment of my life!" said jockey Calvin Borel coming off the finish line.
Here's what The Observer's own Jerome Keel had to say about the winner yesterday:p>
"Street Sense – This colt likes the Downs. Won the Breeders Cup Juvenile on the strip by ten lengths. Had a great workout on April 24th. Comes to run all the time. Best speed rating 105."
The two minute race, held at Churchill Downs, has become about a lot more than the horses.
Spencer Morgan, who is in Louisville today, reports sightings of Star Jones, Nick Lachey and Queen Elizabeth II through the general julep haze of the sleepy Kentucky burg. He'll have a full report when he wakes up Sunday morning.