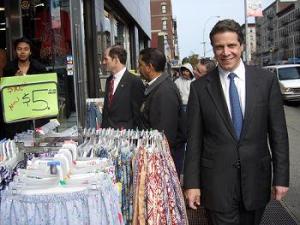 This could be interesting.
Andrew Cuomo opened a new political action committee yesterday called Andrew Cuomo 2010.
According to records at the state Board of Elections, it is for an attorney general's race, although that designation can be changed to re-purpose it for a race for, say, governor.
Cuomo already has a committee for attorney general, called "Andrew Cuomo for Attorney General, Inc." That one was opened on January 30, 2001, and, as a Board of Elections spokeswoman just told me, "It doesn't say 'terminated' yet." The last filing for this committee was in January.
The two committees are based out of the same address (1 Pallisar Road, Irvington on Hudson) and have the same treasurer: Richard J. Sirota.
The older committee could be folded into the newer one if they file the appropriate paperwork with the BOE. Or, they could use it to run for some other office, like an article in today's NY Sun suggests.
I'm waiting to have it all explained to me by Cuomo's office.