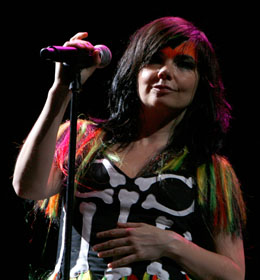 Chirps, pecks, plumage: Appreciating Volta (One Little Indian/Elektra), Björk's sixth proper solo album, is, to a not insignificant extent, a matter of ornithology—a concern quite prominent in the cultural air of late.
In the current best-seller The Black Swan (see review, p. C6), "philosopher of randomness" Nassim Nicholas Taleb ridicules statistical models—and their Ph.D. and hedge-fund acolytes—as pitifully oblivious to how the world actually works. Neither the market nor history in general, Mr. Taleb argues, is driven by equilibriums or continuous narratives; it's the highly improbable, essentially random outliers—the 9/11's, the Katrinas—that matter. Thus the titular parable: "All swans are white" was once a stock European truism, as all the millions of swans then encountered had indeed been white. All it takes, however, is a single counterexample to permanently dismantle such beliefs, and sure enough, in 1697, black swans were discovered in Australia.
The principles of pop stardom are similarly irreducible to the sum of known facts. Björk Guðmundsdóttir is 41 years old. She is a twice-married, once-divorced mother of two. Last weekend, she co-headlined the sprawling three-day Coachella festival in Indio, Calif., with fellow 1990's survivors the Red Hot Chili Peppers and Rage Against the Machine—that is, one group long ago rendered a semi-ironic tribute band to itself and another expressly reconstituted for roughly the same purposes. (It goes without saying, of course, that the real Coachella draws were distinctly third-millennium acts like Interpol and Arcade Fire, Lily Allen and Lupe Fiasco; indeed, headliner status at mass rockfests these days seems mostly a function of some Gen-Y nostalgia for the simpler time when the machine could be raged against just by supporting Ralph Nader.)
After her Friday-night performance, Björk left the California desert for the more agreeable climes—and venues—of Art Deco Manhattan. She appears tonight at Radio City Music Hall, followed by shows at the United Palace Theater on Saturday and the Apollo on May 8. Such willfully decorous settings—much larger than clubs, much smaller than arenas, and rather less conducive to standing or dancing than either—hint at a matronly and more dignified version of the Peppers and Rage career down-slope; discovered by Icelandic radio at age 11, Björk deserves early semi-retirement like few others. And it also must be said: A dispassionate assessment of the Björkian C.V. suggests the sort of expiration-date acceleration endemic to compulsive zeitgeist-chasers. To wit, the punky pixie of the Sugarcubes was transformed, perhaps too effortlessly, into the trip-hop chanteuse of the early solo albums, who in turn morphed into the art-rock torch singer of 2001's Vespertine and 2004's Medulla.
Volta, by this logic, is the obvious bridge too far: Three of its 10 tracks, after all, are collaborations with Timbaland, the studio genius single-handedly responsible for basically the last 18 months of Top 40 radio. And by all objective measures, said tracks are Timbaland productions through and through: that is, stark, thumping syncopation overlaid with digital handiwork that somehow evokes both steam-age machinery and tribal grunting. "Innocence"—the best of the lot—could well have been the skeleton of a Missy Eliot single; only here, Timbaland's trademark pregnant silences are filled with Björk's typical cryptic aphorism. "The thrill of fear," she yelps, "thought I'd never admit it / the thrill of fear / now greatly enjoyed with courage." Album opener "Earth Intruders," another Timbaland piece, begins with a sloshy marching-band beat before launching with ray-gun precision well past the known galaxy. Again, the vocals are mostly ornamental: "Here come the earth intruders," the listener's told, "We are the paratroopers / The beat of sharpshooters / Comes straight from voodoo." Compared with, say, the plaintive heights reached by Vespertine's "Pagan Poetry" ("Pedalling through the dark currents / I find / An accurate copy/ A blueprint / Of the pleasure in me"), Volta's lyrics seem almost aggressively obscure, if not downright banal. As a result, for perhaps the first time, there are moments in which Björk's inimitable alien wail sounds less haunting than merely quirky.
So, all that said, is a middle-aged Björk cynically buying continued relevance? The preposterousness of the question is immediate, and revealing. Of course, the archetype of late-century commercial shape-shifting was clearly Madonna, a superstar whose determined trend-hopping has in fact resulted in a sort of permanent exile to the pop periphery. She is the white-swan exemplar of stardom: Those who take her path—Gwen Stefani trading in ska-lite, Nelly Furtado discarding neo-folk—secure short-term security at the price of inevitable decline; expertly swaying to the beats of the times means never having any authentic claim to it. The other alternative, of course, is opting out, becoming Chili Peppers–style museum pieces.
For all its shortcomings, what Volta proves is that Björk is utterly unique in the present pop constellation. Over a career marked by more stylistic shifts and sonic collaborators than that of any prefab teen starlet, she is now authenticity incarnate. Some of the factors in this are obvious. Her voice is a shocking mutant instrument, and one suspects that its little-girl uncanniness will only prove more remarkable when she's 51 or 61. And, certainly, one can't discount the likelihood that she is simply smarter and shrewder than any of her contemporaries: even "Earth Intruders," for instance, is followed by some two minutes of bellowing steamship horns, as if a reminder that this is, in fact, still a Björk album. In a way, every participant in Volta is subsumed by the Björk ethos (see Min Xiao-Fen, whose Chinese pipa-playing twinkles in and out of "I See Who You Are" as a kind o f languid counterpoint to the mostly unintelligible lyrics).
But therein lies the problem: Volta, ultimately, is a Björk album above all else. Incorporating children's choirs with pipas, and Timbaland beats with those of electronica icon Mark Bell, the album recapitulates the tremendous range of her talents but leaves behind the nearly autistic insularity that made them so intoxicating. Indeed, Vespertine was a single fever-dream; Medulla, which used almost no instrumentation, sounded like how a spinal tap feels. Ultimately, then, Volta finds Björk less on a down-slope than riding high with the realization that the accepted models simply do not apply to her, that she's become a Yoko Ono, more myth than musician.
One wonders, however, if a black swan conscious of its own singularity still has the power to revolutionize. Then, of course, there's the problem of that dress.
Jonathan Liu is a senior at Harvard concentrating in social studies.