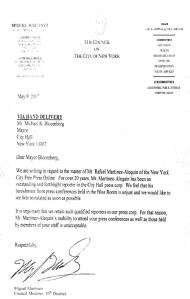 Here is a letter City Councilman Miguel Martinez sent to Mayor Bloomberg asking him to revoke a ban on City Hall's institutional gadfly, Rafael Martinez-Alequin, from participating in mayoral press conferences.
"For over 20 years, Mr. Martinez-Alequin has been an outstanding and forthright reporter in the City Hall press corp. We feel that his banishment from press conferences held in the Blue Room is unjust and we would like to see him reinstated as soon as possible."
The letter was signed by Council members Charles Barron, Hiram Monserrate, James Sanders, Kendall Stewart and others.
Martinez, who has often displayed a knack for needling the mayor with rather provocative questions, recently became a blogger and lacks the appropriate press credentials to participate in the City Hall question and answer sessions. He is currently applying for new credentials.
When asked if Martinez would be allowed back in the Blue Room with a valid press pass, Bloomberg spokesman Stu Loeser said, "Of course."
Whether the mayor will ever call on him again is another matter.