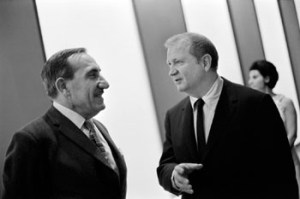 A couple of years ago, the O.K. Harris Gallery organized an exhibition of late sculptures by Philip Pavia (1912–2005). Pavia died shortly after this tantalizing show of large primitivistic heads, his achievements as an artist largely lost to history. A photo of Pavia's 1961 exhibition at Kootz Gallery appears in New Art City, the overview of mid-century Manhattan by New Republic critic Jed Perl. Other than that, you'd be hard-pressed to find documentation of the sculptor's accomplishment.
Pavia is remembered as a part of the milieu that would give rise to Abstract Expressionism. In his book, Mr. Perl cites him primarily as a community organizer and publisher of It Is, a short-lived journal of the arts. Now we can read Pavia's own record of the beginnings of the New York School in Club Without Walls: Selections from the Journals of Philip Pavia, recently published by Midmarch Arts Press.
Pavia's journals chronicle how he and his cohorts met informally at the misleadingly named Waldorf Cafeteria (actually a low-rent diner). Pavia describes it with a typically romantic flourish as "carve[d] out of living rock … a catacomb, with niches and small chapels for leaders and prophets from our art world above." Regulars included the overbearing Aristodemos Kaldis, the enigmatic Landis Lewitan, the "serious thinking" Willem de Kooning, the affable Franz Kline and a host of others, such as Jack Tworkov, Beauford Delaney, Isamu Noguchi, Fairfield Porter and the dance critic Edwin Denby.
"The Club" came in to drink nickel cups of coffee and discuss Surrealism's legitimacy, Europe's influence, and whether a painting was abstract by virtue of the speed with which it was painted. When the Waldorf upped the price of coffee to a dime, a new meeting place was needed. Pavia found an empty loft down the block and fixed it up.
There were frequent parties, with jazz concerts and dancing, but the panels that Pavia organized are the stuff of legend. Painters and sculptors bickered about their respective failings. People read poems mocking MoMA, critics and intellectuals. They formed cliques. "Sharpshooters" like Elaine de Kooning and Mercedes Matter heckled from the audience. Hans Arp, John Cage, Joseph Campbell and Max Ernst gave presentations. The architect Percival Goodman spoke on how "Artists Should Be Homosexual"—a talk that didn't sit well, Pavia notes, with the critic Harold Rosenberg.
Within this contentious environment, artists began to think of themselves as a collective. Pavia states that the term "Abstract Expressionism" was self-generated: "We had finally found our name." He admits, however, that "it was a name no one really wanted."
Conversations were impassioned and sometimes silly. John Graham argued that Botticelli was Russian due to the feet of his figures: They are "hallucinations from the long march." Michael Loew pointed to the weakness of expressionism: "No composition." To which Milton Resnick responded, "Look me in the eye and say that balancing a composition isn't straight from the (expletive) Bauhaus."
Whether the bluster running through Club Without Walls is really indicative of the era or is just Pavia's style is unclear. The answer probably lies somewhere in between, but to peg the New York School as an old boys' club is generous. They were, in many ways, little boys acting out John Wayne–style fantasies.