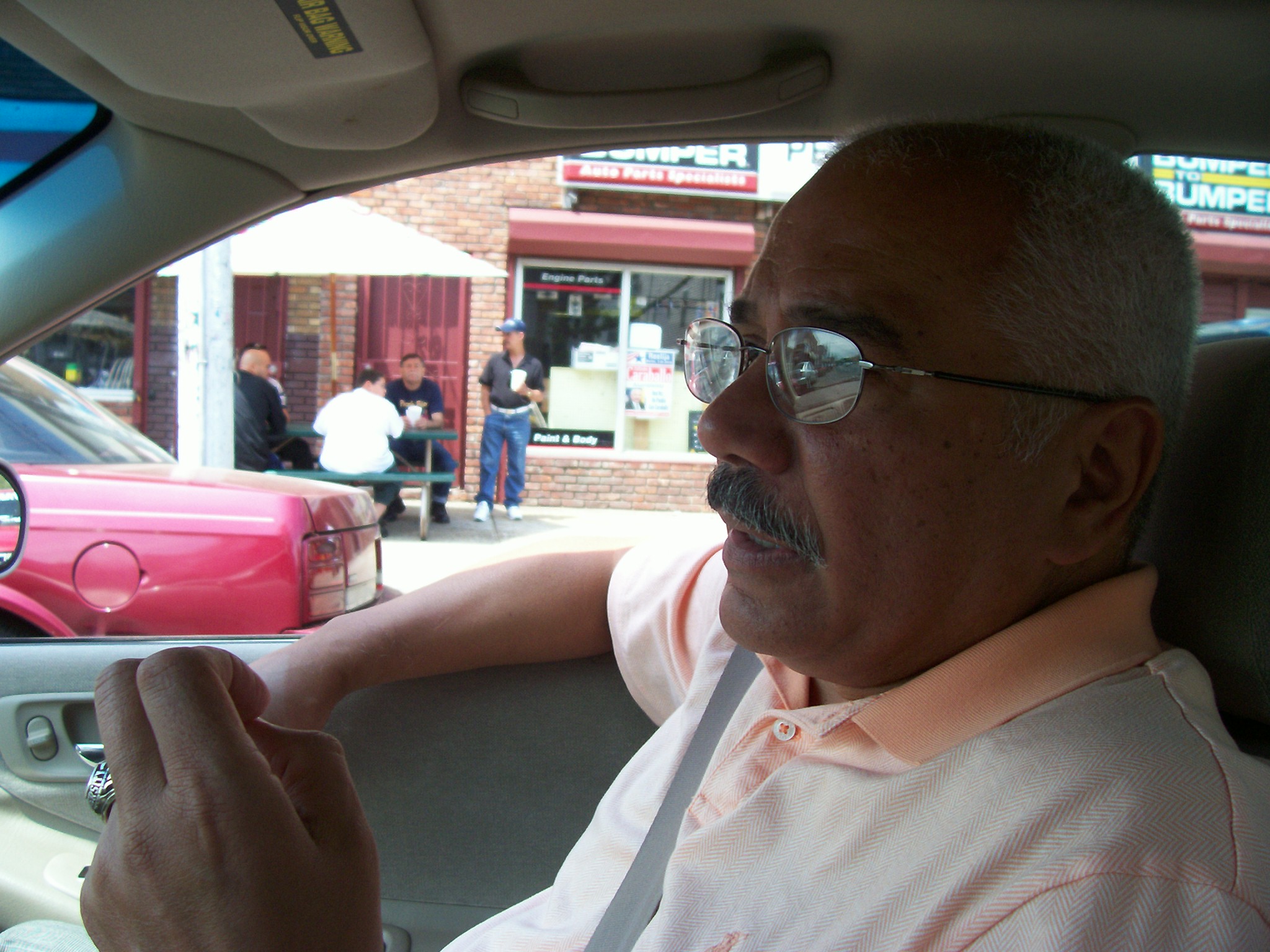 by MAX PIZARRO
PoliticsNJ.com
He's been around long enough to know people get punched hard in this business, but Assemblyman Wilfredo Caraballo from district 29, the third ranking member in the Assembly and the highest ranking Latino, finds it no less difficult to fight off his anger.
"I wouldn't change my vote, no, no way," he says. "I have absolutely no regrets about that vote."
It was the sales tax increase proposed during the budget season last year.
The governor wanted the Essex County delegation to vote for it but Caraballo didn't do it, arguing the tax would unfairly impact his constituents, particularly those making minimum wage or less. Essex County Executive Joseph DiVincenzo didn't appreciate that, and neither did the governor.
"When you say Joe wanted Corzine's favor, you can stop right there," says Charles Williams, Caraballo's campaign manager. "That's what this was about. The county executive wants to continue to get dollars for Essex County. Joe's a big parks guy, but if I were county executive I would be pushing for more jobs training programs."
Caraballo says getting frozen out of the county machinery was payback for the exercise of his independent right as a legislator. "The goals of Essex are the goals of individuals, as opposed to the conscience of each of us," he says. "No legislator should be under anyone's control."
Raised in the South Bronx, Caraballo, 60, studied for the priesthood as a young man before finding his calling teaching the law. He worked for Gov. Jim Florio as the state's public advocate, battled when his office was severely downsized during the Gov. Christie Todd Whitman era, quit in protest, then sought elected office in part to fight those same Republicans who made his life miserable when he was the public advocate.
Now he's fighting again – for a seventh term, but this time he's bucking the leadership of his own party, notably Essex County king-maker Steve Adubato, Sr, and DiVincenzo. Leadership wants to give Newark's new Mayor Cory Booker the allies he needs in Trenton, in addition to preserving their own larger county interests. That means making nice with Corzine and keeping it that way.
This time Caraballo's on his own, without the buttressing forces of a line "A" on the ballot that includes African-Americans from other key zones of New Jersey's largest city and, of course, without the considerable backing of the party.
No hard feelings on the other end.
Booker states the issue clearly from his perspective.
"We want a unified team in Trenton to get the money home," Booker tells a Saturday morning crowd at the Robert Treat Hotel. "We need people to keep an eye on the money."
The 29th district is composed of an almost equal split of African Americans (41 %) and Latinos (37 %), with the rest a mix of Portugese, Italians and others. While a street-level Latino on one level, who's come up the hard way and made good and has an African-American wife, the fact is Caraballo's not from Newark, having moved to the North Ward in 1999.
"Thank God signs don't vote," he says, a reference to his opponents' names on red, white and blue placards all over town. But when he ran with State Sen. Sharpe James and Assemblyman Bill Payne, Caraballo could focus on the north and count on Payne and James to pull votes elsewhere. Now he lacks that advantage in addition to facing the distressing, potentially vote-draining presence in the race of M. Teresa Ruiz, a hometown sweetheart – born in the north ward – – who's running for Senate and lacks a primary challenger, but appears at every event with her running mates, Caraballo's opponents: Albert Coutinho and Grace Spencer.
"They're telling people I'm running against Ruiz, that's their way of working," Caraballo says. 'Their key to knocking me out is confusion."
From the beginning the opposition's strategy was to get each of the DiVincenzo-Booker-sponsored Legislative candidates to shore up a section of the district, which meant Ruiz would cover the north where there's the biggest concentration of Latinos, Spencer the south and the African-American base, and Coutinho the east, which includes the Ironbound section and the Portugese voters. They would run as a team, and they have, underscoring what became the blatant factionalism of the older, James-Payne-Caraballo era, where no one ever knew where James was coming from and where Payne and Caraballo ultimately both saw themselves as his rightful heir in the Senate.
Since James retired and Payne decided to skip the primary and run in the general as an independent in his bid for State Senate against Ruiz, Ruiz has persisted mightily in supporting the ticket and campaigned as if she were in the teeth of a primary battle. "The three of us have been joined at the hip since January," she says.
She can draw north ward votes, and that's the idea. She's also close to DiVincenzo, and that's also the idea.
"Teresa has been doing this for the past 12 years," says DiVencenzo. "She knows all of the issues. She's my deputy chief of staff, my lead person."
There's a new mayor and a new team on the city council, and a group of 30-something public servants in Ruiz-Spencer-Coutinho eager to get elected.
Meanwhile, the murder rate in Newark is still soaring. Members of civic groups stand on street corners with "Stop the madness" signs, and billboards paid for by the same group stand over the city: "Help Wanted" to put an end to the murders.
"The challenges for Newark include employment, help with legal services and child services, and affordable housing," says Duayne Carswell, a young city resident who is in attendance at Saturday's Ruiz-Spencer-Coutinho rally. "I think the mayor's intentions are good, but so far they've been looking for a lot of people with warrants instead of seeing how they can help the urban people meet their payment arrangements. A lot of people can't meet their child payments, their rent payments. The city has to find a better way of helping them with some consistent kind of employment, not just locking them up."
On the other side of the generation divide, "I've been a district leader in the 40th for six years, and you're talking about a lot of seniors," says George Robertson. "They're concerned about housing and property taxes.
"I'm of the opinion that he's trying," Robertson adds, referring to the mayor. "I know what's happening in the street, and what I like about this council is they don't rubber stamp anything."
In any case, the young mayor is a potent force on-stage.
"He's a personality," Caraballo gripes later. "He's never run anything in his life."
There's Booker in his best Michael Buffer, "Let's get ready to rummmbllllle!", pumping the crowd relentlessly, sprinkling his speech with pop cultural references at one moment, likening his partnership with DiVincenzo to Starky and Hutch, then evoking all the struggles of the Democratic Party from social security to civil rights, at the next, finally belting out a homage to the candidates themselves. "Change time! Change time!" he's yelling.
He draws the biggest applause when he passionately advocates expunging the non-violent criminal records of men who might have dabbled in drugs when they were young, who have since reformed and yet can't get jobs now in their thirties because the records don't go away.
Picking up on the energy, "We're his receivers and he's our quarterback, and somebody's got to bring it home," Spencer says of the mayor.
"I'm concerned that we don't shortchange our seniors," says Coutinho, who if elected says he wants to make sure casino re-investment dollars make it back to the cities and the senior population. "I'm tired of going to tenant association meetings and seeing mold on the ceilings," Coutinho says.
It's a big crowd here at the hotel, feasting on a big spread: coffee, pineapples, grapes, pastries.
And it's a different scene up on Broadway that afternoon at Caraballo's campaign headquarters.
Wearing a Yankees cap in the middle of an office that looks like a bunker, with ward maps on the walls and the frantic tap-tap-tap sound of staffer Omar Perez's fingertips on the computer keypad, Williams is crafting the day's battle plan for his boss.
"Cory Booker is bringing in a spanking new team," he says. "If he doesn't understand how leadership works in Trenton he needs to hire a new team of advisors."
The incumbent backs up the point.
"Out of every 100 bills there are five bills that everybody understands, which affect the population at-large," says Caraballo. "The other 95 bills are for individual districts. Your job as an assemblyman is to get the votes for those particular bills that affect your constituents. You must be in a position where people believe you're credible; where you're able to influence because you have a history, because you have seniority."
They're going down to the south ward today, to link up with other party outcasts.
"If they get me out," says Caraballo, "that's politics. If they don't get me out, that's the people. Politics doesn't define me. I am a tenured law professor. I get to shape young minds in the classroom."
The caravan rambles through the district onto Hawthorne, the cars convening symbolically on a block in front of Mayor Booker's apartment – "We're here to send you a message, mayor" is the mood, but the event taken as a whole has the feel of has-been central, what with former Councilman Ras Baraka scowling, Anton Wheeler talking about Booker's "neo-conservative" agenda, and Sen. Ron Rice, buried by Booker at the polls last year in the mayoral race, working the street.
"I believe Booker is focused on the decentralization of voices from our neighborhoods," says Wheeler. "If you speak out against his agenda, you're a troublemaker."
An elderly couple appears on the sidewalk in front of Booker's digs and the man looks too much like an older version of the mayor not to be mistaken for the father and indeed moments after Rice is seen engaging the couple in conversation he's asked if they're Booker's parents.
"Yes," he says, and at the mention of Booker he can't resist adding, "You know the thing about him, is he's not from here, he's from Harrington." Then he relates a story about how Booker told reporters once about how he survived in the suburbs because he has green eyes.
On another end of the block, pulling campaign signs out of the trunk of his car, Assemblyman Craig Stanley isn't concerned.
"I've run on line 'B' before," he says, ready to fight.
It's Caraballo who looks most out of place. His wife is there in support and so is his older son, Nico, and Williams, but however many people they marshall for the forces of district 28, Caraballo's still the loner in district 29.
There's a little girl on a street corner, some supporter's child, who can't be more than 10 years old, who sees the veteran assemblyman and tells him simply, in an encouraging voice, "Caraballo. Caraballo."
He flashes a smile, and to a Latina, a woman he has just met he says, "Un placer," "a pleasure," and moments later he is in one of the cars somewhere in the middle of the caravan, in the chorus of horn honks on Bergen, channeling the anger, pulling a last stand alliance in the maw of Newark's south ward.