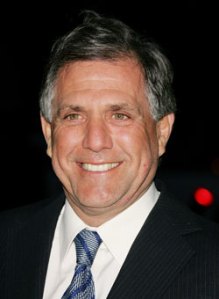 On the afternoon of May 16, CBS President Leslie Moonves stood at the front of Carnegie Hall and directed the gaze of hundreds of advertisers and journalists toward a massive screen at the back of the stage.
With the lights down and all eyes up, the president of the most watched television station in America proudly proceeded to show off a clip from … YouTube.
Sure enough, not half an hour into their annual upfront presentation to advertisers, the CBS brass were busy spotlighting the work of "stewmurray47"—who several months ago had compiled a bunch of David Caruso one-liners from CSI: Miami into a YouTube-worthy video. Make that a CBS-upfront-worthy video!
"Content like that demonstrates just how dramatically our world has changed," said Mr. Moonves.
Luckily for Mr. Moonves, the subset of the world known as network television hasn't changed that much in recent years. To wit: last season for the fifth straight year, CBS won the overall ratings game. Mr. Moonves went on to note that CBS finished a close second in the 18 to 49 demos, just a smidgen behind "those Idol worshippers at Fox."
The mood was celebratory.
Queen's "We Will Rock You" pumped through the theater's sound system. A song-and-dance team performed a riff off a Sly & the Family Stone standard ("We want to thank you / for watching / CBS / again!") And an animated version of network sales guru JoAnn Ross appeared on screen, flying through virtual space.
"Just to be clear," said Mr. Moonves. "The dollars she will be asking for will be very, very real."
CBS Entertainment President Nina Tassler took the baton from Mr. Moonves. She explained that thanks to the continued success of the network's existing primetime lineup there wasn't too much space for new shows. But with those limited opportunities, Ms Tassler said, CBS had decided to get edgy.
She summed up the subjects of the new programs thusly: geeks, Cubanos, kids, vampires, singers, and swingers. Sounds like good family entertainment to us!
Cue the nerds.
Ms. Tassler announced that on Monday night, CBS will be adding some geek-humor to their lineup with a show called The Big Bang Theory—a situational comedy revolving around what happens when a hot girl (played by Kaley Cuoco) moves into an apartment across the hall from two dweeby roommates (Johnny Galecki and Jim Parsons). Spoiler alert: Stephen Hawking jokes ensue.
Ms. Tassler kept moving.
On Tuesday nights this year, CBS will debut a new drama dubbed Cane, starring Jimmy Smits as the head of a Cuban American family that, having made a fortune in the rum business, wades into the tumultuous world of sugar-cane wheeling and dealing.
After a highlight reel, Mr. Smits sauntered onto the stage surrounded by his fellow cast members. Despite all his years on successful network shows, including The West Wing, NYPD Blue, and L.A. Law, he had never attended an upfront.
"I'm the 40-year-old upfront virgin!" said Mr. Smits. "Okay, the 50-year-old upfront virgin."
Like a true virgin, Mr. Smits exited promptly.
Before long, the audience was being treated to a preview of CBS' new, Wednesday night reality show: Kid Nation, wherein producers (and, presumably, lawyers) take 40 kids (ages 8 to 15) to a ghost town in New Mexico and set them loose, sans parents, for 40 days. Along the way, there's a lot of crying, and contests, and latrine cleaning. And, well, more crying.
For one great moment, Carnegie Hall was filled with the image of a handful of dusty teenagers, standing around a table in a Western-style saloon doing shots of root beer.
Somewhere in TV-land Al Swearengen was shaking his head.
From there, Ms. Tassler went on to introduce Moonlight, a new drama about a love-torn vampire with a heart of gold, and Viva Laughlin, a musical set in a Nevada casino and featuring Hugh Jackman as a big-haired fellow who likes to gamble and sing.
And what about the, um, big-haired fellows who like to swing?
Towards the end of her presentation, Ms. Tassler introduced a show that will appear on CBS mid-season called Swingtown. Set in 1976, the drama centers around the horndogging habits of a swinging airline pilot, his randy wife, and their new next-door neighbors who may or may not be prone to experimentation. The montage was jam packed with polyester and heavy petting.
"I might need a cigarette after that," concluded Ms. Tassler.
And we might need another shot of root beer!