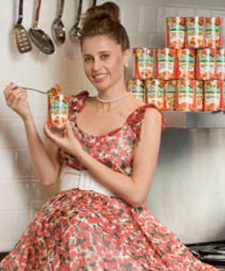 There is no canned spaghetti in the Tribeca kitchen where Anna Boiardi entertains her guests. The granddaughter of Mario Boiardi—who together with his brother Hector founded the now-iconic prepared-pasta company Chef Boyardee—said she's never heated up even a single serving.
A petite, mild-mannered brunette who moved with her family from Italy to the Upper West Side at the age of 6, Ms. Boiardi, 33, insisted that she's not embarrassed by the family brand, whose packaging still bears her great-uncle's likeness under a towering chef's hat.
"I'm so proud of what they accomplished," she said on the evening of April 28. Her grandfather and great-uncles, all accomplished cooks, worked at the Plaza before starting what would eventually become a multimillion-dollar adventure in mass marketing. During World War II, the Chef Boyardee plant was open 24 hours a day producing food rations for soldiers. Ms. Boiardi's grandmother, meanwhile, sewed salamis into the hems of her skirts and made fake bottoms for her suitcases to bring prosciutto and coppa into the U.S.
Ms. Boiardi was at the Greenwich Street loft she shares with her fiancé Jack McCue, a lawyer and entrepreneur (they will marry in Italy, of course), hosting the inaugural night of a cooking class that she plans to give every two weeks. "My grandfather and my uncle were really amazing chefs, and we have such an interesting, colorful family history and tradition and culture, which is not represented by what's in the can," she said with some indignation. "Most people don't realize that there was a real family behind this brand. They think it was some made-up persona, like Aunt Jemima."
With her class and two forthcoming cookbooks—one a memoir—Ms. Boiardi hopes to set the record straight about her family's skills with the skillet. But that was not her sole motivation.
"All of our friends always love to come to our apartment to cook, and they love the idea of eating at home, but no one ever gives dinner parties, because no one knows how to cook," she said. "It's so fun, and it's interactive and it's a great way to meet people, and we decided to do a class just for that reason: to spread our passion. And"—a laugh—"to get invited to other people's homes, so we're not constantly in our own house."
Ms. Boiardi was born in Piacenza in the north of Italy, in the Emilia Romagna, a region known for cheeses, cured meats and pasta—specifically its tortelli. "Here they're round, but in Piacenza they're almost like a long diamond shape, very delicate and braided across the top," she said. "My grandmother used to make it, my mom makes it, and I make it."
She attended the University of Denver and moved to L.A. for eight years, becoming a producer of reality-TV shows such as MTV's Run's House and Album Launch, as well as a sort of mini–Molto Mario for her social set. "People think, 'Oh, I have to have a big kitchen' or 'Oh, I have to have the right utensils,' and it just becomes too intimidating," said Ms. Boiardi, who returned to New York in 2006. "I just always became that person for my friends and taught them to make just really easy things."
As it happens, her own loft is ideal for entertaining. An enormous professional kitchen opens up onto a spacious living room. Adjacent is a dining room that comfortably accommodates a 15-foot-long dinner table. Ms. Boiardi's got all the right utensils, too.
On the night of the 28th, eight students were situated at individual "cooking stations" along a bar bordering the kitchen, hacking their way through her menu.
The class began with roasted peppers, followed by a penne pasta with cherry tomatoes and buffalo mozzarella. The entree was Branzini encased in sea salt—move over, Bill Buford! And for dessert: crêpes and Nutella, simple and delish.
Helping Ms. Boiardi to guide the neophyte cooks was her friend and business partner, Lorenzo Uras, with whom she plans to co-author a book of simple entertaining tricks.
"You know Americans: They can't cook. That's why we're doing it—because from 25 to 35 and even older, they like order out or they go and eat outside," said Mr. Uras, who hails from Sardinia. "They don't even know that the best meal, you can cook it at home, you know. No preservative, everything is fresh, and it's good for you—it's good for your body. It's such an amazing stress release. It's absolutely therapy for the soul."
While she doesn't want to think too far ahead, Ms. Boiardi is of course open to the idea of her own cooking show. And if her first class was any indication, she will have a devoted audience.
"This was really great," said Shawn Sachs, a publicist who attended with his girlfriend Lisa, taking a break after putting the Branzini in the oven. Up till now, Mr. Sachs' specialty had been grilled cheese. "I was hoping that what we take away from tonight is that I would be cooked for," he admitted. "But push comes to shove—yes, I will cook."