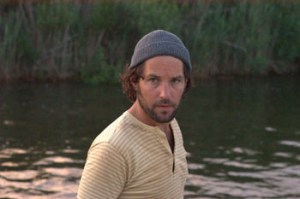 DIGGERS
Running Time 96 minutes
Directed by Katherine Dieckmann
Written by Ken Marino
Starring Paul Rudd, Lauren Ambrose, Maura Tierney
Set in the days before the 1976 Presidential election, Diggers is a salty, minimalist comedy about a tight community of clam diggers on the south shore of Long Island. (Now there's a subject destined to draw mobs at the box office.) As corporations gradually confiscate their waters, these tough guys with the brains of adolescents face adversity with piss and vinegar—and a few laughs.
When the crusty local patriarch dies and gets buried in his trademark clam-digger galoshes, everybody expects his 34-year-old son Hunt (Paul Rudd) to take over. But the man-boy who never burdened himself with responsibility is reluctant to stay in the family business. Hunt doesn't want to dig clams; he wants to be a photographer, like Spider-Man's day job. So he starts to think about leaving town. His tiny seaside community loses its luster anyway after the death of his dad, who earned the description "one of the old pricks that define this place." Good reason for looking elsewhere. The sleepy, sad village doesn't have much to offer Hunt anymore, especially as mega-corporation South Shell is buying up the locals' clam shoals, driving down wages and pressuring the diggers to sell out. The future looks bleak for mom-and-pop businesses. Plus there's the extra incentive of a riverside romance with quirky Manhattan party girl Zoey (Lauren Ambrose of Six Feet Under). When he teaches her how to eat clams and the poor city slicker almost vomits, Hunt realizes that it's time to see what else lurks in the world beyond his perimeters besides cocktail sauce.
Circling this orbit is his sister Gina (Maura Tierney), who is recovering from a bitter divorce with a much-maligned fellow known only as "Shithead." Then there are Hunt's good-for-nothing pals: drug-addled hippie bums Jack and Cons (Ron Eldard and Josh Hamilton), and funny-aggressive Lozo (Ken Marino), a foul-mouthed father of five in a permanent state of warfare. Mr. Marino also wrote the screenplay. Nothing much happens in Diggers, but it does showcase an attractive and resourceful cast who seem to enjoy growing beards and long, greasy hair as a vacation from more adult roles. Directed by Katherine Dieckmann with unabashed nostalgia for the end of an American way of life that prided itself in cusswords and macho swagger, the film mischievously depicts the sweeping changes of the mid-70's. The endless prattle of Jimmy Carter and Gerald Ford on TV promises a hopeful future, making the film seem even more passé. On the plus side, the blue-collar grit in the script does sound accurate, the belly laughs are genuine, and the performances have plenty of verve. Still, there isn't much hope that these losers will ever grow up and become hedge-fund managers. The diggers in Diggers might as well be aliens.