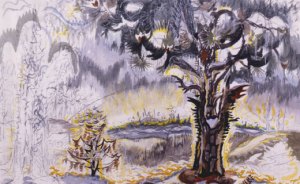 Whoever came up with the truism "Trust the art, not the artist" knew a thing or two about the creative process. One gauge of the success of a work of art is how far it transcends the artist's intent—how it challenges, surprises or thwarts the ambition and skill of its creator. The artist might be oblivious to this experience or, perhaps, deny it.
Nancy Weekly, essayist for the catalog accompanying an exhibition of Charles Burchfield's watercolors at DC Moore Gallery, refers to the painter's landscapes as an "amalgamation of pantheistic, transcendental and religious principles." This characterization places Burchfield (1893–1967) within the American tradition of divining a spiritual or mystical presence in the natural world. In this light, Burchfield fits into a lineage with the Hudson River School, George Inness, Albert Pinkham Ryder, Arthur Dove and, in our own day, Bill Jensen.
Ms. Weekly, curator and head of the collection at the Burchfield-Penney Art Center in Buffalo, gives us glimpses of the painter's own attitudes toward his art and its relationship to nature. In his journals, Burchfield extolled the "joyous power" of the natural world: "It is like the beauty of pure youths and maidens in the first flush of their maturity." Elsewhere, he admired its "absolute perfection." Ms. Weekly picks up and runs with this talk of exuberance and luxuriance.
But there's nothing in Burchfield's sunbursts, his ailanthus trees and his evocations of early spring that is powered by God's beneficence. The stark and severe products of Burchfield's vision convey merciless wrath instead. He makes his friend Edward Hopper seem almost cheery in comparison. Watching clouds float by, Burchfield responds by conjuring an apocalyptic nightmare, or at least something unmistakably ominous.
The critic Henry McBride, in a review of a Burchfield exhibition in 1920, recognized the corrosive temperament of the work, detecting little else but "vehement hatred" in it. McBride later described Burchfield as "the sort of genius that communities usually massacre and then afterward revere," and he dubbed the watercolors "songs of hate."
The scathing nature of Burchfield's art can be attributed to his contradictory handling of watercolor. You wonder why he chose it as a medium—his distrust of the stuff comes across as intensely puritanical. He transforms its inherent fluidity into something dry and harsh. Burchfield's palette is somber when it's not acrid, and his images are defined by swift and stabbing brushstrokes, spiky shapes and clouds that sag like human flesh.
McBride traced the source of Burchfield's loathing to poverty, the effect it had on isolated communities and the "terrible line of a railway" that set it into motion. Any discernible political emphasis has dissipated, though: Burchfield's art is far removed from the cloying populism of regionalists like Grant Wood and Thomas Hart Benton, to name just a couple of contemporaries. The pictures are more closely related to the fevered visions found in folk art, though their sophistication is never in doubt.
The DC Moore show is notable because this particular group of watercolors hasn't been exhibited for more than three decades. Each work consists of an already "finished" piece that was subsequently enlarged by the addition of strips of paper. As many as 26 years could separate the initial state of one of these pictures from its eventual reworking. "Sometimes," he remarked, "the better [pictures] have to evolve over a period of years."
Only two of the watercolors are complete. The remaining works in progress offer an opportunity to see Burchfield reconsider this or that image. The added portions of paper contain areas elaborated upon with watercolor and charcoal. Some bear the slightest trace of the hand; others, as in Blue Dome of June (1955-1963), with its dire blare of sunshine, are more developed.