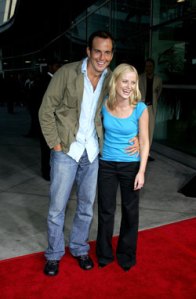 Fresh from their splendorous turns as ice-skaters Stranz and Fairchild Van Waldenberg in Blades of Glory, the funniest couple in Manhattan has made a multimillion-dollar condo upgrade.
Last month, Saturday Night Live star Amy Poehler and Arrested Development alum Will Arnett sold their fifth-floor condo at 1 Morton Square for $2.2 million. Weeks earlier, they had bought a condo higher up in the building—where the Olsen dames are neighbors—for $5,275,000.
According to the listing with Sotheby's International Realty broker Danielle Wiedemann, no one's ever lived in the couple's new condo, with its six and a half rooms and copious outdoor space. "The entire apartment is ringed by a private & continuous wrap-around terrace," says the listing, "facing South & West over the Hudson."
If the comedians prefer the indoors, they can spend their time in the 2,446-square-foot apartment's three bedrooms or three bathrooms.
Their seller is listed in city records as IRMO, a limited-liability corporation managed by the octogenarian Mollie Bender. Luckily, Ms. Bender inherited a massive real-estate fortune from her brother William Gottlieb in 1999.
On Arrested Development, killed off last year by evil and unfunny Fox TV executives, Mr. Arnett played a promiscuous, Segway-riding magician/ventriloquist.
Appropriately, according to the listing with Michele Kleier, president of Gumley Haft Kleier, the couple's old Morton Square apartment had a "spa-like" master bathroom with "separate soaking tub and shower" (all the rage these days with famous types, apparently), plus a marble powder room.
Pitiably, their old condo only had two bedrooms and two (and a half) bathrooms. Page Six reported on its sale Tuesday morning.
Why did the couple stay in the building, designed by Trump pal Costas Kondylis? "I just want to live within a mile radius of where Meryl Streep lives; call me a stalker, that's my goal," Ms. Poehler told The New York Times after the couple bought their first apartment (near Ms. Streep's West Street penthouse).
"Wherever she is," Ms. Poehler said, "I know that's the place to be.''