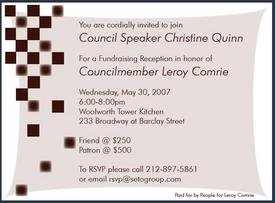 Tonight, Leroy Comrie will have a fund-raiser hosted by Christine Quinn and organized by the Seto Group.
Comrie has been talked about as a candidate for Queens Borough President, a position more than one current City Council member is interested in. So this seems to suggest that Quinn's choice in that race, however unofficially, has been made.
And in case you follow this sort of thing, the Seto Group is the same one getting John Liu's citywide campaign (for something) off the ground.