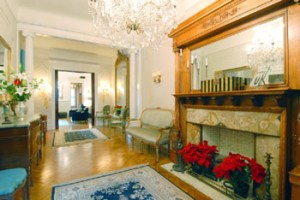 The Erin Brockovich of big-sugar class-action lawsuits has bought a stately 108-year-old townhouse on West 137th Street, a leafy block near Harlem's Strivers Row.
Lawyer Edward Tuddenham and his wife, Sarah Cleveland, a University of Texas law professor, paid $2.4 million for the five-level townhouse. Their seller, Mikki Shepard, is a do-gooder, too: She helped establish the lauded, Brooklyn-based black culture group 651 ARTS.
According to listing broker Luke Evans of the Corcoran Group, the house has "the original speak pipes, which are the equivalent of an intercom today." How do they work? "The guys blow on this tube and it whistles at the other end, and they talk through it," he said.
Mr. Tuddenham's old-school Harlem luxury isn't quite egalitarian: His parlor floor has three chandeliers; the seven fireplaces have hand-carved wood and polished onyx; there's a (retired) three-floor dumbwaiter leading to the full-floor master-bedroom suite, which overlooks the 550-square-foot garden and its mulberry tree.
A 17,000-word Vanity Fair profile from 2001, which inspired an upcoming Jodie Foster–directed film called Sugarland, paints Mr. Tuddenham as a Birkenstock-wearing Legal Aid lawyer combating the sugar industry's slave labor.
Could such a pure soul buy a 4,200-square-foot house? A later article in The Miami Herald pointed out that the attorney backed out of the ongoing sugarcane cutters' case and became estranged from colleagues after selling his story to Robert De Niro's production company.
On the plus side: According to the Corcoran listing, his new place is "an elegant feast for the eyes," with "tangible warmth and comfort."