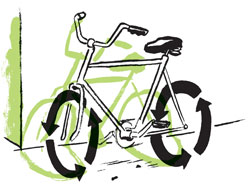 There's no better urban therapy than cycling to Coney Island on a weekend afternoon. Usually no more than a commuting vehicle, your bike becomes your best friend, a steed made of metal and rubber to carry you to a place that still twinkles with old New York magic.
A tangy breeze blasts in your face over the Brooklyn Bridge. Your legs pump, propelling you through Brooklyn as the majestic Verrazano-Narrows Bridge appears on the horizon down the shoreline pathway. The crashing waves against the rocky shoreline provide your sunset soundtrack. When the towering Parachute Jump rises in the distance, you're almost there—just a few more miles and you can bite into a Nathan's Famous Hot Dog, lick some soft serve and gaze at the Atlantic we so often forget.
If you don't have a bike, head to Recycle-A-Bicycle in Dumbo or the East Village and pick up a little junker—perfect for a day ride. You won't get scammed into buying one of those tricked-out $500 two-wheelers, and you can feel good about where you're putting your money: The shop funds training and environmental-education programs for kids.
For more information, visit www.recycleabicycle.org