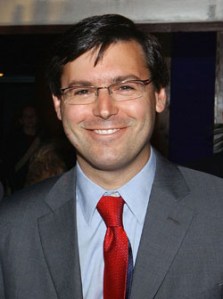 Council member David Yassky, one imagines, must feel a little like Al Gore these days.
Like the former Vice President, Mr. Yassky, a 43-year-old Councilman from Brooklyn, lost a "big election." (That's how he now refers to his unsuccessful, highly scrutinized bid for Congress last year.)
And like Mr. Gore, his reaction to the loss—after a brief recovery period—was to immerse himself in the details of an environmental agenda that he had been pushing for years, with only modest results.
Suddenly, Mr. Yassky's locally focused, relentlessly detailed plans for cleaning up the environment are highly topical. It started from the moment last week that Mayor Michael Bloomberg, standing next to a floppy-haired, bespectacled Councilman that few people outside of his neighborhood in Brooklyn could possibly have recognized, announced on The Today Show that the city is going to replace every Crown Victoria in its fleet of yellow taxis with a hybrid vehicle. "And most importantly," he said, gesturing towards his colleague, "this is City Councilman David Yassky, who's been leading the environmental fight here in the city."
Mr. Yassky had been pushing the idea for five years, to be precise—almost since the moment he joined the Council.
"People at that point didn't have the vision to see that the taxi fleet was broken, in the sense that it was belching out many more tons of carbon dioxide than it needed to, and it was a problem that was invisible to many people five years ago," he said this week.
A wonkish ex-law professor, Mr. Yassky didn't dwell long on the attention that his proposal has finally received, other than to say there was "a fabulous reaction."
"There's a ton more to do to build on this initiative and keep trying to take the sustainability vision the Mayor has put forward and make it more concrete and immediate," he said.
He'll have to work fast—term limits are going to force him, along with most of his colleagues, to leave office in 2009.
"I have a bill we haven't even introduced yet to put green standards into the bidding process, to change the rules for awarding city construction contracts so the environmental impact would be one factor," he said.
Another policy he's pushing, along with Council colleague Jim Gennaro and the Bloomberg administration—a policy that also finally seems to be gaining some traction—would be to "get some level of biofuels into the heating-oil stream."
"One of the arguments—somewhat similar to the taxis two or three years ago—is that "it sounds good, but you can't tell me to buy biodiesel because there is none out there,'" he said.
(Last weekend, the New York Times Metro section identified a Brooklyn company that "may soon be home to one of the largest biodiesel fuel manufacturing plants in the country.")
As for being the idea of being a mini-Gore, Mr. Yassky said: "That's a very flattering comparison, but not deserved. I think Al Gore is one of the real heroes of our time."
For Mr. Yassky, the years of pushing ideas that went nowhere, the heartbreaking political loss and, finally, the measure of redemption are all part of his unspectacular calling.
"I think that's how government and politics work," he said.