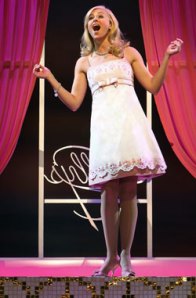 There are lots of reasons why I had a great time at the infectiously dopey new musical, Legally Blonde, and the show's dogs are two of them. One adorable dog in a Broadway show is understandable. Two looks like carelessness. But not here—not in Legally Blonde, the show that takes no prisoners.
Based on the hit 2001 movie, it's quite famously about Elle Woods, the blond sorority queen from Malibu who's—Omigod!—dumped by her socially ambitious boyfriend and follows him with her cute little dog dressed in matching pink outfits to Harvard Law School, where—Omigod!—she graduates as class valedictorian and learns that shopaholic blondes can have it all.
Legally Blonde's dogs are like the exuberant, good-natured show itself: a bit shameless and somehow exactly right. The ironically named Bruiser, a frisky Chihuahua, is Elle's lap dog. I think Bruiser is a Chihuahua. When it comes to dogs, there are times when I don't know my chi from my huahua. The second dog, Rufus, is definitely a bulldog. I used to have one. It ate all the furniture. The smiley Rufus makes a star's belated entrance in the show. True, he looks a little stoned. Or as its owner, Paulette, the brassy beautician, puts it happily when she's at last reunited with him, "I missed this face!"
A phlegmatic second banana, Rufus doesn't have a big scene after his surprise entrance, unless vaguely chasing a hand-puppet offstage in Act II counts. But Rufus isn't one to complain. He can take it or leave it.
Bruiser's moment comes during a parade into a courtroom for the murder trial of—Omigod!—Elle's best sorority friend from UCLA, who's become a risqué, rope-skipping fitness guru (secretly toned with liposuction), when the bewildered canine is raised in triumph along with the American flag.
People think it's easy being a dog in showbiz. But I remember the very regrettable Broadway debut of Riley, the hopeless wire terrier who played Asta in the ill-fated musical version of Nick and Nora (1991). I regret to say that Riley gave one of the worst performances I've ever witnessed from a dog.
Remember the high-energy of Sandy in Annie? Why, that pooch seized the stage. Sandy was the Ethel Merman of dogs. But all Riley's dozy Asta could do was peer into the wings as if he'd forgotten his lines or wanted to go home. Riley even yawned at one point—a cardinal sin onstage, though understandable from the audience's point of view. The eager understudy, Eve, should have taken over. Those are the breaks. My point is, Riley simply wasn't a pro. But let there be no doubts about Bruiser and Rufus.
They're as perfectly cast as everyone else in Legally Blonde. The boldest casting of all is the show's director, Jerry Mitchell. Mr. Mitchell is well-known as a leading Broadway choreographer (Hairspray, The Full Monty, Dirty Rotten Scoundrels, the revival of La Cage aux Folles). He's making his debut as a director with Legally Blonde, which he also choreographs. A disciple of the late Michael Bennett, Mr. Mitchell keeps the stage hot and even boiling by telling a story that's always in constant motion.