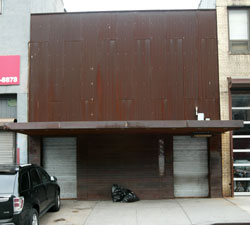 At around 2 a.m. on Saturday, May 5, Camille Zarsky, a jewelry designer, was enjoying a late night at Bungalow 8 with a few of her girlfriends. The D.J. had just put on "Rich Girl" by Hall and Oates—a song Ms. Zarsky had requested—and all seemed right in the upstairs lounge area of the West 27th Street nightclub.
"Then this guy came up to me and asked me to join him for a drink downstairs," Ms. Zarsky recalled. "I said, 'No, thank you.'"
The man, who identified himself as "Giovanni," was short, dark and handsome—"Mayan-looking," said another clubgoer—with tattoos on one of his fingers. He was wearing a leather jacket emblazoned with the Dolce & Gabbana logo and went on to explain that he was the nephew of Dolce & Gabbana (in retrospect, a somewhat mystifying assertion, considering the two designers are not related or married). He again asked Ms. Zarsky to join him for a drink. She politely declined for a second time.
"Then he was like, 'Come on, come on. Let's go downstairs,'" Ms. Zarsky said. "He was very aggressive. He was like, 'Why don't you be a lady and come have a drink with a gentleman?'—He actually called himself a gentleman!—'I'm sure you need someone to buy you one.'"
Ms. Zarsky said she was growing tired of the abuse but that she felt there was little she could do but sit and take it. "He said, 'Oh, you stupid bitch, I will get you kicked out of any fashion event!'"
By this time, some of Ms. Zarsky's girlfriends had noticed the situation and had begun to surround her protectively. "'He was like, 'Your friends are nobodies. You don't know anybody. I have credit cards, I have a Black AmEx card, I have a platinum credit card,'" Ms. Zarsky recalled.
Later that night, said another source, "Giovanni" attended a party at the apartment of Philip Langer, project manager for a construction company and a Bungalow regular. There, he met two female revelers. "He said that he was Dolce & Gabbana's son or nephew or something," said one of them, who wished to be identified only by her first name, Emily. "And that his parents were staying at the penthouse at the Mandarin." She thought "Giovanni" looked familiar. "And he said, 'Why, because I'm heir to the Dolce & Gabbana fortune and friends with Paris Hilton.' He spoke so fast and was actually really convincing."
"Giovanni," Emily and her friend left Mr. Langer's shortly thereafter and began searching for a hotel to continue their celebration. They settled on the Double Tree on Broadway. The taxi pulled up. "Then he was like, 'Do either of you have a driver's license, because I don't have a passport?'" Emily said. "He brought out the credit card"—a platinum AmEx—"and it said 'Philip A. Langer' on it, and I was like, 'Let's get out of here.' He was really furious and slammed the taxi door on my friend's face."
Emily alerted Mr. Langer, who in turn informed Bungalow empress Amy Sacco.
"Giovanni" next entered the club's doors on Friday, May 11, having charged over $9,000 to Mr. Langer's card over the week—including several hundred dollars' worth of (what else?) Dolce & Gabbana. "As soon as he walked in, we nailed him," said Ms. Sacco. "He was dead meat. You don't want to get busted by Disco"—the renowned Bungalow doorman.
As he was escorted out the door by police, the diminutive perp—Ms. Zarsky and her friends have nicknamed him Napoleon—tried to shed some other credit cards.
He was subsequently charged with 18 counts of grand larceny and three counts of criminal possession of stolen property, according to Officer Martin Brown, an NYPD spokesperson.