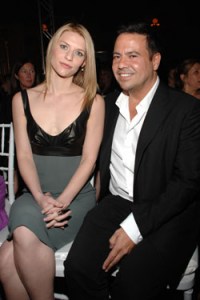 "I'm really so happy to be here tonight, celebrating Narciso," said the actress Claire Danes, just before presenting Narciso Rodriguez with the 2007 Pratt Institute Fashion Icon Award at Manhattan's Gotham Hall on Wednesday, May 9. "I had the very good fortune of meeting Narciso 12 years ago, as an unpolished 16-year-old. He's been a mentor and a friend ever since."
Ms. Danes, now a thoroughly polished 28-year-old and a front-row fixture at Mr. Rodriguez's shows, was wearing one of his latest pieces: a black and gray empire-waisted dress whose bodice hugged her delicate frame. "Like most great designers," she continued, "Narciso defines his power in subtlety."
Of course, in business, there can be such a thing as a little too much subtlety. Mr. Rodriguez—best known for designing the simple silk slip dress that Carolyn Bessette donned to wed John F. Kennedy Jr.—recently signed a partnership deal with Liz Claiborne to keep his eponymous line afloat.
"I'm excited about the future and looking forward to getting back to work," he told The Transom. "It's a big week for me. It's a great honor to receive an award from Pratt Institute. It's been a fantastic week—what can I say?"
Does he have any doubts about his new collaboration, with a company better known for droopy "mom" separates than dressing socialites? "Not at all—I'm looking forward to it," Mr. Rodriguez said blandly. "It's a new collaboration, so we'll see. We just announced our partnership. It's a little early to see immediate change."
Oh, and?
"I'm totally excited."