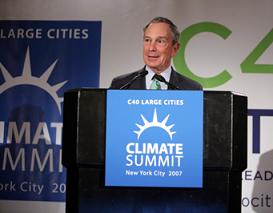 One of New York's most powerful unions, SEIU/1199, has signed on in support of a gay marriage bill.
Mark Green interviewed Mike Bloomberg on Air America radio.
James Dobson, founder of Focus on the Family, says he'll sit out the election if Rudy Giuliani is the Republican nominee.
One of John McCain's fund-raisers tonight is at Tenjune in the Meatpacking District.

John Edwards didn't like Rudy Giuliani's claim that most Democrats blame American foreign policy for causing the September 11th terrorist attacks.
The Seneca Nation wants to charge the state for each vehicle that travels through its reservation.
Scooter Libby got a standing ovation at a dinner last night in Manhattan celebrating Commentary Magazine.
Chris Dodd invested money in a financial group managed by John Edwards.
There's a new website for those who follow special interest contributions and votes in Congress.
And pictured above is Mike Bloomberg, of whom one respectable magazine wrote, "Selfishly, The Economist would like to see a genuine social and economic liberal in the race."