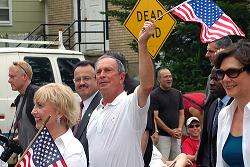 Hillary Clinton has a huge lead in Nevada.
John Edwards explains why he's never been to Iraq.
On the topic of Bloomberg for president, Arthur Sulzberger gave a pseudo-endorsement and said "we could do worse."
Joe Bruno doesn't want the 2007 primaries to be held on September 11th.
The Chicago Tribune held a story at the request of US Attorney Patrick Fitzgerald.
Fred Siegel and Michael Goodwin don't think Michael Bloomberg is much of a reformer. 
The NYPD should be opening their files about their surveillance leading up to the Republican National Convention.
Since Robert Moses' legacy is being re-examined, here is his 3.500 response to Robert Caro.
And pictured above is Mike Bloomberg in flag-waving parade mode.