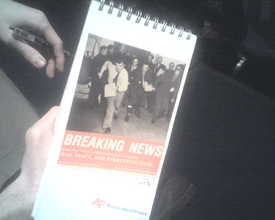 Rudy Giuliani supporters appear to be the victims of a purge at FreeRepublic.com.
When Senators were voting on the Iraq spending bill, "Mr. Obama went first — no. Then, within minutes, Mrs. Clinton strode into the chamber and voted the same."
Jason Boog gets a hold of an amazing email in which a judge says that "it is customary for either the spouse of the Judge or a close family member to make a yearly contribution to the county political party."
Did anybody running for president actually read the 92-page National Intelligence Estimate about Iraq?
Bill Samuels is the new finance chair for the New York State Senate Democrats.
The Times Union political blog is banned in China.
Pat Healy reads Al Gore differently than Carl Campanile
There's an ozone warning to kick off your Memorial Day weekend.
The Brennan Center wants a cap on the number of bills introduced in Albany.
Vitamin water is now a Coca-Cola product.
And pictured above is a reporter's souvenir notebook featuring a famous AP photograph.