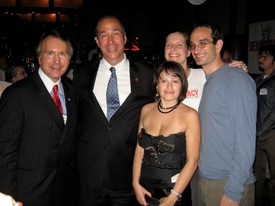 The White House unveiled its climate change strategy.
John Edwards contradicts his own campaign spokesman and says he read the 2002 NIE intelligence report during the run up to the Iraq War.
Hillary Clinton beefed up her New York campaign offices.
Rudy Giuliani was endorsed by the former FBI director under Bill Clinton.
Andrew Sullivan defends Barack Obama from some netroot complaints about his health care policy.
Columbia University agreed to let Andrew Cuomo's office oversee their student loan practices.
The agreement was announced hours before Cuomo speaks at a League of Conservation Voters event whose sponsors include Columbia University.
Eliot Spitzer wants banks to pay more money into a legal fund to help poor New Yorkers.
Micah Kellner and Greg Camp will debate on NY1 tomorrow.
Glenn Thrush tries decoding the Times story about immigrants and leprosy.
Google Maps gets intimate.
Elana Levin identifies four progressive policies that help the economy.
Larry Littlefield explains where New York's public money goes.
Finally, a blog about news and politics in The Bronx.
And pictured above is Congressman John Hall (blue tie) and supporters from DFNYC at a fund-raiser last night.