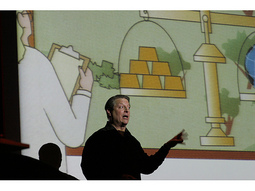 Gay marriage advocates are hitting the suburbs.
Joe Bruno will be honored by opponents of the bigger better bottle bill.
Glenn Hurowitz doesn't think Hillary Clinton and Barack Obama are all that good on the environment.
Hillary said she never saw the memo about her campaign writing off Iowa, reports David Yepsen.
Ron Paul is to Republicans what Howard Dean was to Democrats, says Micah Sifry.
Micah Kellner says he won't "join the status quo" in Albany.
The head of the Bodega Association is "95 percent with the mayor's plan," with the other 5 percent being that congestion pricing thing.
Ben looks at the John Edwards evolution on gay issues.
A reader emails a link to this definition of push polling.
The Iraq War is more unpopular now than ever.
And pictured above is Al Gore, who is speaking in Manhattan later tonight.