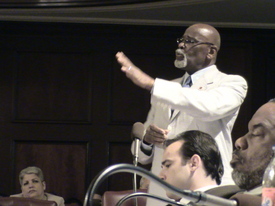 The Times Sunday Magazine cover story about Hillary Clinton's position on the Iraq War is now online.
Hillary's Hollywood fund-raiser with Stephen Spielberg is tonight.
Rudy Giuliani and John Edwards are in San Francisco today, but not together.
Joe Biden will have the Fox debate to himself.
Fred Thompson says he's running for president, and that he's going to be using the Internet a lot.
Seventy-seven Democratic Assembly members support gay marriage, enough to pass it in that house — if the Speaker allows a vote on it.
Eliot Spitzer signed a bill to change this year's primaries from September 11 to September 18th. More campaigning!
Spitzer, I think, is the inspiration behind Steamroller.com
Bodega owners support congestion pricing.
Matt Lauer is going to Cuba.
John DeSio attempts to explain Scientology's detoxification program.
Dan Gerstein's broken wrist is slowing his blog activities.
People for the American Way is bringing in Dan Rather to host a forum in mid-June called "Questioning the Constitution."
And pictured above is Al Vann during a heated Council debate over renaming a street for Sonny Carson.