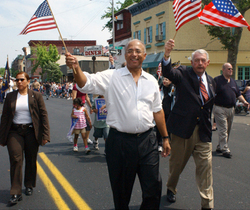 Hillary Clinton thinks there's too much pessimism.
Barack Obama unveiled details of his health care plan.
Mitt Romney said he'll work for free.
Eliot Spitzer wants to fix the state-run universities.
Lobbyist Richard Lipsky thinks the New York Times editorial board is a bunch of hypocrites.
Liza Sabater thinks reporters in Albany and New York City suck.
Aaron Naparstek calculates the percentage of people in each Council District that would be affected by congestion pricing.
In case you missed it, MySpace will track political donations.
And pictured above is Bill Thompson in a Memorial Day parade yesterday.