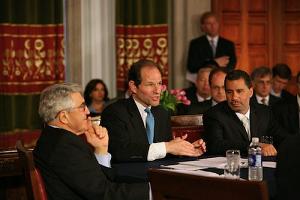 Rudy Giuliani and John McCain can expect protesters when they attend tomorrow's dinner for the state's Republican Party.
Ralph Nader is going to Albany.
Ben explains Hillary Clinton's vote today.
Bloomberg and Christine Quinn put the breaks on capital funding for some projects.
Bill Clinton is ready to fight for congestion pricing.
Andrew Cuomo is suing Dell.
49% of Jewish Press readers think Mike Bloomberg should run for governor, according to the newspaper's online poll.
Andrew Sullivan thinks Rep. Ron Paul had a point last night when he linked American foreign policy to the widespread anti-American sentiments in the Middle East.
Republican Senator Chuck Hagel of Nebraska wants Alberto Gonzalez to resign.
And pictured above is Eliot Spitzer.