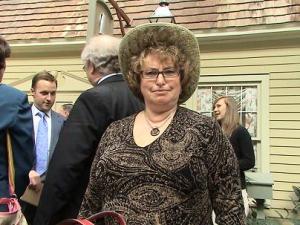 Mike Bloomberg doesn't want to work at the World Bank.
One report says that Bloomberg isn't a Presidential candidate yet, but that he probably will be.
Eliot Spitzer thinks that Alberto Gonzales is "a blight upon the Department of Justice."
Jerry Skurnik wants to know who's running for City Council.
A gay marriage bill introduced in the Assembly today has 53 sponsors.
Betsy Gotbaum put out a report about technical training and public education.
Adam Nagourney says states shouldn't rush their presidential primary schedules.
Mike Bloomberg's friend Chuck Hagel gets some validation on his Iraq war predictions.
Mitt Romney and John Edwards lead in a new poll of likely Iowa caucus goers.
Dan Gerstein writes about his new gig as a columnist with Politico.
Rudy Giuliani will be on David Letterman tonight.
John Edwards will be in town on Wednesday.
Bill Richardson is officially in the race.
And pictured above is state Democratic Party chair June O'Neill.