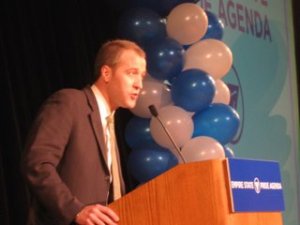 Hillary Clinton and Barack Obama agree to debate in New Hampshire.
Joe Biden talks tough about President Bush and Iraq.
Tom Schaller gets into John Edwards' Southern strategy.
Anthony Weiner blogs about the need to pass the C.O.P.S. bill in congress.
Councilman Mike McMahon got a slap on the wrist for having a staffer type a poem for his daughter during business hours.
Parents plan to protest Mayor Bloomberg and Chancellor Joel Klein on the City Hall steps later.
Joe Bruno dissed Eliot Spitzer for leaving Albany during a session day to fund-raise in California.
MGM Grand is out of a bid for the state's horse-racing franchise.
The Huffington Post has a new political editor.
DMI has its first class of scholar activists.
In case you forgot, there's a special election today.
And pictured above is Spitzer aide Sean Patrick Maloney, from the Empire State Pride Agenda blog.