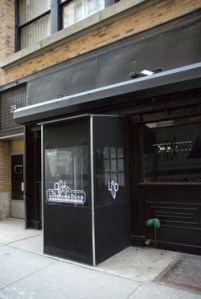 Texas-based restaurateur Tim Love once galloped proudly into Manhattan, celebrated as a James Beard Foundation "Rising Star."
That star took a considerable tumble last fall, following a brutal review of Mr. Love's newly opened Lonesome Dove Western Bistro on West 21st Street.
Call it the Bruni Effect.
New York Times restaurant critic Frank Bruni's eviscerating critique began outside the gamey Flatiron-district eatery, comparing the soggy and trampled steer's hide at the doorstep to "roadkill after a rainstorm." Inside, Mr. Bruni noted a "morose" vibe, accented by "mud-colored walls and bad lighting." And the food? A "bruising slam dance" of flavors and ingredients.
Other factors probably contributed, but Lonesome Dove didn't last long after Mr. Bruni's stinging zero-star rating; the belittled venue hung on for a few short months before finally shuttering in March.
"Of course reviews impact business," e-mailed Mr. Love, who otherwise declined to "bitch or complain about any one person's opinion."
Varietal, on West 25th Street, felt an almost immediate Bruni Effect. An executive chef and pastry chef both reportedly resigned within days of Mr. Bruni's March 21 write-up, which highlighted an appetizer that tasted like "laundry detergent" and desserts that looked like someone "took a mallet" to the confections and "let the shards and crumbs scatter where they may."
Even in an era where the Internet allows anyone with an appetite to act as critic, The Times' top foodie still wields considerable power to boost careers and crush dreams. Not that Mr. Bruni himself would use such make-or-break terms.
"I have no way of knowing whether a review I've written hastens the death of any restaurant," Mr. Bruni told The Observer, "but I can assure you it's not my goal in writing a negative review to put a restaurant out of business. I'm just writing what I honestly think about the restaurant, with my principal consideration being readers and consumers."
Mr. Bruni was appointed the food critic in April 2004, leaving his role as Rome bureau chief for The Times after a stint covering Presidential politics. Rome chief? Campaign reporter? Not necessarily the expected C.V. of arguably the nation's most influential food critic.
But who among us wouldn't want to rip on rude service, overpriced desserts and the old-wine-bottle bait-and-switch?
Even when pleased, Mr. Bruni still gets in a few jabs: "Obviously, he didn't like the color scheme, and he thinks fine dining should be loud—he said something like, 'It was too quiet,'" noted Picholine chef Terrance Brennan, the surprised recent recipient of three stars.
Which makes Mr. Bruni's pose as democrat of the dinner table appealing to many, just as it enrages others.
Food bloggers can't help but cheer on Mr. Bruni. Eater.com conducts weekly "Brunibetting," whereby contributors wager the score of the critic's next target. And it has repeatedly posted "Wanted" posters bearing Mr. Bruni's mug, along with the names of known dining companions, purportedly hung throughout the city's kitchens.
Just this week, the blogs kvetched over restaurateur Keith McNally's observation that Mr. Bruni has never awarded a female chef in Manhattan more than one star.
"When I'm sitting in a restaurant eating the food, the gender of the chef is not influencing how much I'm enjoying myself," responded Mr. Bruni, who pointed to Brooklyn-based chef Anna Klinger's two-star Al Di La as evidence of his own gender neutrality.