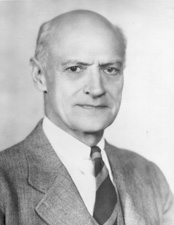 H. Alexander Smith was a late bloomer in New Jersey politics. Born in New York, he spent twelve years practicing law in Colorado Springs (his nephew, Peter Dominick, was the Senator from Colorado before losing his seat to Gary Hart in 1974) and worked at the U.S. Food Administration in Washington during World War II. He moved to New Jersey at age 39 to become Executive Secretary of Princeton University, and was elected New Jersey's Republican National Committeeman 23 years later.
After U.S. Senator Warren Barbour died in office at the end of 1943, Smith decided to run for the United States Senate. He was 64-years-old when he defeated Congressman Elmer Wene, a onetime chicken farmer from Cumberland County, by 25,725 votes — a 50%-49% margin. He was re-elected in 1946 (by nearly nineteen percentage points against Camden Mayor George Brunner) and again in 1952, by a 56%-44% margin over Archibald Alexander.
In June 1957, ten-term Congressman Robert Winthrop Kean said that he was likely to run for the Senate seat. His announcement surprised Smith, who had not yet announced his plans.
"I'm very surprised that Kean didn't speak to me first about it, since he is a very close friend of mine," Smith said in June 1957, telling reporters that he intended to seek re-election the following year.
At age 65, Kean viewed '58 as his last chance to serve in the U.S. Senate, as his father and uncle had (his grandson, Thomas Kean, Jr., would run for the same seat 48 years later.) Republican Clifford Case, eleven years younger than Kean, won the state's other Senate seat in 1954.
Smith was still a candidate in November when Bernard Shanley, a top aide to President Dwight Eisenhower, resigned his post as White House Appointments Secretary to run for the Senate.
In addition to Kean and Shanley, five other candidates were mulling Senate bids: Peter Frelinghuysen, a three-term Congressman from Morris County (and the father of current Congressman Rodney Frelinghuysen); State Senators Walter Jones of Bergen County and Wayne Dumont of Warren County; C. Douglas Dillon, Eisenhower's Deputy Undersecretary of State for Economic Affairs (and John F. Kennedy's Secretary of the Treasury); and Robert Morris, a onetime aide to Senator Joseph McCarthy and the former Counsel to the U.S. Senate Judiciary Subcommittee on Internal Security.
"At my age, 77, I would like to retire, but feel I have a responsibility to my party to try to avoid a primary fight and save my seat for the party," Smith said, according to published reports about Shanley's announcement.
Ninteen days later, Smith said he would not seek reelection to a fourth term.
But with Kean and Shanley standing firm, Republicans had a primary anyway. Kean (helped by family members who campaigned for him, including his son, the future Governor) won somewhat narrowly, defeating Shanley by a 43%-36% margin, with 21% of the vote for Morris.
On the Democratic side, party leaders met behind closed doors — as was their system at the time — to pick a candidate for the open seat. They allowed Governor Robert Meyner, recently re-elected to a second term, to choose between Harrison Williams, a 39-year-old former Congressman from Union County, and former U.S. Attorney Thorn Lord, the Mercer County Democratic Chairman. Meyner picked Williams, who was elected to Congress in a 1953 special election but lost his seat to Florence Dwyer three years later.
Only Hudson County refused to support Meyner's choice; they backed Hoboken Mayor John Grogan, the national president of the Shipyard Workers Union. In a split with the Governor, State Commissioner of Conservation and Economic Development Joseph McLean, a 42-year-old former Princeton University Professor who had managed Meyner's 1953 race for Governor, also entered the race.
Almost as soon as he lost his House seat to Dwyer, Williams set his sights on running for the Senate; he had been prepared to challenge Smith. He spent 1957 traveling across New Jersey, campaigning for Meyner in his sucecssful re-election bid against magazine publisher (and State Senator) Malcolm Forbes.
With the support of 20 of the 21 county Democratic organizations, Williams won by about 12,000 votes statewide — 43%-39%. Grogan won Hudson County by more than 71,000 votes and carried Atlantic and Camden counties as well. Williams became the first statewide candidate to win a Democratic primary without the backing of the Hudson County Democratic Organization since the 1898 gubernatorial election.
In the general election, Kean was a well-credentialed candidate and began the race with a lead. But Williams, 27 years younger, worked harder, had more money (Democrats controlled the governorship and Kean didn't want to spend his own money) and had an anti-Republican political environment on his side.
1958 — the middle of Eisenhower's second term — was a disaster for Republicans nationally. Democrats picked up thirteen U.S. Senate seats (ten GOP incumbents were defeated) and gained 48 House seats. In New Jersey, Williams beat Kean by about 100,000 votes — a 51%-47% margin.
Second act: Williams went on to spent nearly 24 years in the Senate; he was Chairman of the Senate Labor Committee when he resigned in 1982 following his bribery conviction in the Abscam scandal. Kean went on to hold higher office: he was Essex County Republican Chairman in the early 1960's, when the GOP dominated county politics. Lord, the former law partner of future Governor Richard Hughes, ran for the Senate in 1960 and lost 56%-43% to Case. Shanley ran again for the Senate in 1964, but lost to Williams by a 62%-37% margin in another strong Democratic year. Grogan sought support to run for Governor in 1961 but dropped out when party leaders backed Hughes; he retired as Hoboken Mayor in 1965 — two years after all five of his City Council candidates were defeated. McLean left politics and New Jersey and was teaching at the University of Virginia when he died in 1986. Morris ran unsuccessfully for the GOP U.S. Senate nomination in 1964 and 1984 — and lost bids for public office in Texas in between.
For extreme junkies, Joe Katz's recollections as a Newark News reporter covering Kean's '58 campaign:
He didn't like to spend his own money. We reporters, I remember when we were traveling in … late October, down in Cape May County, and we went to, I think, a town called Stone Harbor. There was only one restaurant open at the time, and Kean was paying his own way. He had spent a lot of money to win the nomination, but, he figured, now, it's up to the party to support him in the general election, and the party figured, "Here's this guy with all these millions, we're not going to support him. We don't have the governorship."

As a result, he didn't spend much money, but, I guess he had to pay [the] expenses of the reporters and everybody traveling with him. There was only one place open, the Stone Harbor Inn. Our party of thirty-five or forty people sat down around one large table which covered three of the room's walls. Kean, somewhat dismayed at the prospective cost of the meal, suggested: "Friday's a good day for fish." Kean's staffers dutifully began to order fish and chips, or something like that. The first newspaperman called on was Frank Gregory of the Star Ledger, rest his soul, who liked to imbibe and had been imbibing that day. "What's the most expensive cocktail you've got?" demanded Gregory. Told it was a champagne cocktail he ordered that, and asked what was the most expensive dish. That turned out to be lobster or porterhouse steak. After Gregory ordered a steak all the reporters ordered champagne cocktails followed by either a lobster or porterhouse. Soon, Kean's staffers worked up the courage to change their orders from fish and chips and beer to lobster or steak and champagne. Williams had no money, but his party had the governorship and we traveled quite nicely.