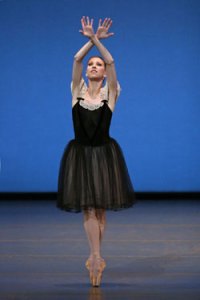 I wasn't planning to write this week, and then on Sunday, May 27, something happened: a nearly perfect afternoon at City Ballet, certainly the best all-round program I've seen there in years. And one with symbolic implications—if you believe in symbols.
To begin with, there was Mozartiana—or rather Kyra Nichols in Mozartiana. Ballet-lovers are keenly aware that Nichols has chosen to retire later this season. Well, she deserves to, if that's what she wants—she's been in the company since 1974, and has been its finest dancer for at least the last 20 years—but to judge from this performance, there's no physical reason for her to go: She still has the technique Mozartiana requires. Yet the more important demands imposed by this elegant masterpiece, Balanchine's last major work, are artistic, even spiritual, and Nichols is dancing it with a new, spacious simplicity, with such exquisite musicality, such subtle refinement that she transcends herself. The opening "Preghiera" seems to proceed as one continuously and miraculously fluent phrase­, a single breath. The variations are subtly inflected, the duet a miracle of instinctive response. Everything is unaffected and unforced; she hasn't lost her amazing aplomb, but here it's at the service of modesty and grace rather than virtuosity. She's like gentle marble.
Mozartiana is a Farrell role, like "Diamonds" and many others Nichols has assumed, yet the two dancers are on the surface diametrically dissimilar—Farrell flamboyant and dangerous, Nichols composed and fully centered. But they share crucial qualities for dancing Balanchine: unerring and profound musicality and deeply personal phrasing. That's why Nichols can look so utterly different from Farrell in a role and yet give you the same level of satisfaction. And that's why observers like myself—some of whom have been appreciating her since her school performance—are close to tears as each of her appearances brings us closer to her final one. We last felt this way when we were counting down Farrell's last five Vienna Waltzes. This is what it's like when great dancers go out in glory.
How apt, then—how moving—that in Sunday's second ballet, Jerome Robbins' Piano Pieces, we were seeing the return to form of the dancer closest to Nichols in looks, approach and potential grandeur: Jennie Somogyi. She joined the company 20 years after Nichols, in 1994, and her special combination of brilliance and conviction quickly made her the young ballerina to watch. Just as she was reaching her peak, a terrible injury kept her sidelined for a year and a half, and her return to the repertory has been cautious. In Piano Pieces—yes, in the role created on Nichols—she was lustrous and exciting. She's not back to full strength yet, but if she gets there, she'll be the indispensable classicist we need. So we mark her return with both gratitude and trepidation.
Somogyi was not the only reason to celebrate this performance of Piano Pieces, a ballet hardly Robbins' best, but one that offers luscious opportunities for three principal girls. In the Heather Watts role, Abi Stafford showed again how she's softened and grown: Stiff and somewhat off-putting in her first seasons, she's very appealing now in her forthright, all-American way. And Jenifer Ringer, in the Maria Calegari role, was the best I've seen her in years. She's always been a Robbins dancer rather than a Balanchine one, and lyrical rather than dynamic: Piano Pieces suits her new, slimmer self perfectly. She's both relaxed and focused, romantic and intense. It's a pleasure to be able to enjoy a dancer I've so often been disappointed by.
I'm ignoring the boys because the company's new crop, alarmingly interchangeable, are all workmanlike, even appealing, but essentially unremarkable. One exception: the talented Antonio Carmena, in the quicksilver solo role, is in danger of getting too cute and jokey even for Robbins.
Finally, on the heels of a departing star and in the wake of a returning one, came the newest star in the firmament: Ashley Bouder. From her earliest appearances seven years ago, it was clear that she was a technical phenomenon. There were two questions: Could she compensate for her somewhat unusual physique—short, square—and emerge with the look of a classical ballerina? And could she restrain and refine her highly assertive attack? As she's taken on role after role, it's been clear that she understood her problems and was working on them. On Sunday, she was given the largest of opportunities: the ultra-demanding ballerina role in Balanchine's great Tchaikovsky Piano Concerto No. 2, generally referred to by its original title, Ballet Imperial.
Not only did she meet its technical demands without a flicker of hesitation, but she struck the "Imperial" note without appearing imperious. The impossibly difficult passage at the ballerina's entrance went by with no difficulties at all. And she held her own in the romantic adagio, with its echoes of Swan Lake, before racing triumphantly through the third movement. If she didn't have the standard ballerina look, we quickly forgot to notice. (This role, by the way, was another of Kyra Nichols' great triumphs—more handing on of the torch.) To add to the general satisfaction of the occasion, the ballet's second ballerina role (by most standards a prima role) was deftly and easily handled by Teresa Reichlin: super-tall, super-thin—Bouder's opposite. Happily, they complement each other rather than clash.
Nichols, Somogyi, Bouder—the New York City Ballet moves on. If it could always be as satisfactory as it was on Sunday afternoon, we'd be back in Balanchine-Robbins heaven.