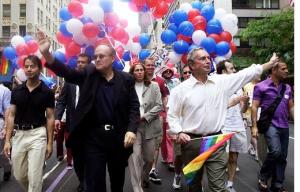 A few weeks ago – in between Hillary Clinton's official entry into the presidential race and the first Republican primary debate of the cycle – the fiery online conservative forum Free Republic marked a decade in operation as one of the premier online forums for right-wing political discussion.
It also experienced one of the biggest internal battles to rock the site since the 2000 election of George W. Bush — a tumultuous campaign year that nearly tore the site apart, as its founder and chief administrator first cleansed commenting ranks of Bush supporters, then, later, rallied to his support.
At the heart of the latest controversy: the fight over the conservative bona fides of Rudy Giuliani.
Over the past few weeks, chaos has reigned in the "Freeper" community as members sympathetic to the former mayor's candidacy claim to have suffered banishment from the site. They were victimized, they say, by a wave of purges designed to weed out any remaining support for the Giuliani campaign on the popular conservative web forum. Another significant chunk of commenters have migrated away from the controversial site over the action, according to a number of former site members and conservative bloggers who have been tracking the situation.
In a plaintive post on the blog "Sweetness & Light," exiled commenter Steve Gilbert, who says he does not support the former mayor's campaign, blasted the site's new "anti-Giuliani, anti-abortion jihad." Since George W. Bush was elected president, he wrote, "there haven't been any large scale [Free Republic] purges to speak of – until now."
The fight began one month ago, when site founder Jim Robinson posted an anti-Giuliani manifesto titled: "Giuliani as the GOP presidential nominee would be a dagger in the heart of the conservative movement." Then the virtual ax started to swing. Longtime posters to the freewheeling discussion threads, used to serious no-holds-barred web etiquette, were still stunned by the intensity of the anti-Rudy activity; conservative blogs buzzed with the development.
"Jim Robinson has been going on a tear demonizing Rudy Giuliani, because Rudy (agreeing with the vast majority of Americans), is personally opposed to abortions on a moral level…" complained a user on the GOPUSA Web site. "Anyone who posts any support for Giuliani at the site, if it's at all forceful, will be banned."
("Normally, we don't allow complaints about other conservative forums," chided the moderator, but "…because it is being discussed all over the Internet, I'll make an exception.")
Just a few months ago, Rudy Giuliani placed second in an early Free Republic straw poll; now, his support on the site has been virtually eliminated. "After the 'April Purge,' I don't think there are any Rudybots left around here," noted Free Republic commenter "upchuck" in one recent post. "And if there are, they're not posting pro-Rudy stuff :)."
The forums weren't the only venue for the Free Republic's new antagonism toward Mr. Giuliani, which coincided with a wave of comments expressing similar sentiments from other corners of the conservative movement. A few days after Mr. Giuliani's equivocal Roe v. Wade comments at the Republican presidential debate on May 3, a new "STOP RUDY NOW News & Information Thread" was featured on the site, and a newly-created stand-alone category debuted via a link from the homepage: "The Giuliani Truth File." (So far this campaign season, Mr. Giuliani is the only candidate – Republican or Democratic – to be singled out for that level of scrutiny from the Free Republic.)
Why Rudy? Why now? Some conservative bloggers and former commenters contacted for their view of the continuing controversy say they believe that site founder Jim Robinson holds ideologically middling Republicans like Mr. Giuliani responsible for the GOP's congressional loss and current woes. (They asked that their names be kept out of this story for fear of antagonizing the famously frisky site regulars.)
Others claim that the former mayor's top-tier status is spurring frantic site administrators into action.
Finally, one popular theory holds that the Free Republic is secretly hoping for another Clinton presidency that would send its Alexa ratings soaring back to levels it hasn't experienced since its halcyon days of the Clinton impeachment, when a since-soured relationship with blog pioneer Matt Drudge and overwhelming anti-Clinton sentiment in Republican ranks helped make Free Republic one of the hottest Web sites in the nation. It hasn't recovered that luster since the Bush administration took over.
"It's not a conspiracy theory, it's an observation," said one blogger, who describes himself as a half-hearted Mitt Romney supporter. "They've still got a brand name that means something, but they're not what they were in terms of real-world impact. A Hillary presidency would get them there."
Robinson himself could not be reached for comment, but his original post laid out his case against Mr. Giuliani – a graphics-heavy presentation of some of the former mayor's most damning moderate quotes in mainstream media venues, along with a color-coded report card tracking his less-than-doctrinaire positions on abortion, immigration, gays and guns.
Robinson, it should be noted, famously blasted George W. Bush's presidential candidacy back in 2000, before a dramatic late-campaign about-face that saw him emerge as one of the GOP ticket's biggest supporters. But whether or not Free Republic experiences a similar election-year shift this cycle, the site's current campaign is spreading a dangerous primary-season meme of Rudy Giuliani as big-city liberal – and turning one of the most influential web forums in conservatism into an exclusive gathering place for those who share that view.