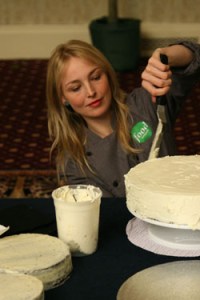 Not long ago, Colombe Jacobsen was riding her bike up Park Avenue when she saw a head shot of herself, smiling out at the city, from on top of a cab. Ms. Jacobsen, who is 29 years old and has straight blond hair and big green eyes, was on her way to Harlem, where she regularly teaches culinary nutrition to low-income kids.
Ms. Jacobsen had recently heard about this taxi-top advertising campaign, which was promoting a show called The Next Food Network Star—the third season of which premieres Sunday, June 3, and on which Ms. Jacobsen happens to be a contestant.
"I was like, 'Hey, that's me!'" she recalled.
Each ad featured a head shot of one of the show's participants alongside an epithet: "Humble Pie," "Sweet Potato Pie," "Tangy Tenderloin," and so on.
In addition to being a chef, Ms. Jacobsen is an actor, who has played parts in everything from Disney's Rookie of the Year to Men in Black II. Along the way, she's gotten used to seeing herself on screen—albeit for roles in which she plays fictional characters rather than a TV version of herself.
Looking across the traffic at her ad, she sized up her own moniker for the first time: "Crunchy Granola."
In the movies, you are told your role ahead of time. In reality television, not so much. The crunchy-granola girl? Ms. Jacobsen was surprised.
A few days later, Ms. Jacobsen answered the door at her second-floor walk-up apartment on the Lower East Side. She was wearing a purple sundress and a funky green necklace that brought out the color in her eyes. She welcomed The Observer into her home. She was barefoot and smiling.
A dining-room table occupied a central position in her apartment. "Now that summer is here, I'll be spending a lot of time entertaining," said Ms. Jacobsen. "It's so convenient for a lot of my friends to come through here and have spontaneous parties."
On top of the table, Ms. Jacobsen had spread out a colorful array of treats. There were radishes and asparagus that she had picked up earlier in the day from the Greenmarket at Union Square, where she occasionally gives cooking demonstrations to passers-by. Nearby, a pile of homemade banana bread sat next to some chunks of fresh Parmesan cheese.
Ms. Jacobsen apologized for the lack of bialys. She had tried to buy some earlier, but it was a Jewish holiday and the bialy shops were closed. Instead, she had brought home doughnuts from the Doughnut Plant. "If you're going to eat doughnuts," she explained, "they have the best ingredients."
Lately, Ms. Jacobsen's love of fresh, local ingredients has taken her on a somewhat unexpected sojourn into the traditionally canned and artificial world of reality television. The journey began in a "core-fusion" studio.
On top of working as a private chef, teaching culinary health to kids in Harlem and acting in the occasional Hollywood film, Ms. Jacobsen teaches exercise classes at the Exhale spa, in something called core-fusion. It's kind of like a yoga-Pilates hybrid.